Trainee Steering Group (TSG) Deputy Chair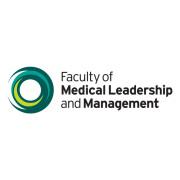 The Faculty of Medical Leadership and Management (FMLM) is offering the opportunity for trainee members to join the Trainee Steering Group (TSG). The TSG is a group responsible for representing the views and interests of trainee members within FMLM. The purpose of the TSG is to promote the values of FMLM to trainees and to provide strategic direction for medical leadership and management for its trainee members.
Read more about the Trainee Steering Group (TSG)
FMLM is currently inviting its trainee members to apply for the position of TSG Deputy Chair. The appointed deputy chair role is key to the effective working of the TSG, holds high responsibility for, and involvement in the strategic direction of and provides a wealth of self-development and experiential learning opportunities for the appointment person.
As the Deputy Chair you will:
Be encouraged and supported to promote and highlight the work of the TSG and FMLM, expanding the influence the TSG has regionally, nationally and internationally.
Work collaboratively with the Chair and other TSG members, relevant FMLM staff members and external stakeholders, whilst supporting other TSG members with promotion of their projects and events.
Support the Chair in delivering the vision and mission statement of the TSG through a formalised workplan
Contribute to the overall direction of the TSG, ultimately representing trainee leadership and management on behalf of FMLM.
Contribute to the expansion of existing trainee networks.
In addition, there is an opportunity for significant professional and personal development via access to FMLM training opportunities, mentorship, and experiential learning through leading and delivering projects. The FMLM is committed to developing leadership and management among trainees. Joining the TSG will give you the chance to have your say on how this is achieved and delivered.
Additional information
Application deadline:
11 December 2023 - 6:00pm