"A nation that destroys its soils destroys itself…"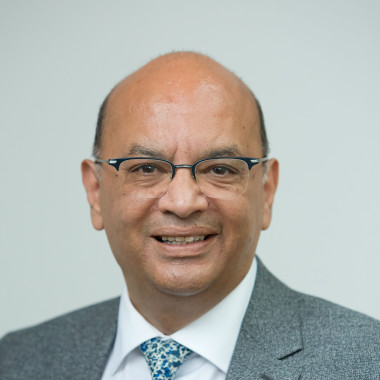 …Forests are the lungs of our land, purifying the air and giving fresh strength to our people."
Franklin D Roosevelt.
By Professor Mayur Lakhani CBE
FMLM Chair and Founding Senior Fellow
The promise of growth and new life with the arrival of Spring and the long Easter weekend ahead, serves as a reminder of the importance of our natural environment for the health and wellbeing of all living things.
It is a fact that trees are especially important to our long-term health, with new data suggesting forests help to keep the Earth cooler, protecting life from the effects of the climate crisis. In the face of alarming reports of mass die-offs of species, including trees[1], FMLM is looking to do more to ensure medical leadership understands the role it can play to align healthcare strategies with the sustainability agenda, and this is integral to FMLM's five-year strategy.
Towards the end of last year, FMLM launched an initiative to garner support for the sustainable healthcare agenda by inviting colleagues (members and fellows in particular) to join FMLM in raising funds to plant more trees across the UK.
The 'laying down roots' initiative was developed to mark FMLM's 10th anniversary and to contribute in some part towards a healthier, more sustainable future for all, as well as symbolise the need for a healthy, organic root and branch system for clinical leadership development and support throughout healthcare.
While FMLM was launching this initiative at the annual conference in November 2021, COP26 was meeting in Glasgow to discuss the issues affecting the environment and climate change. Since then, on 28 February this year, the second working group of the Intergovernmental Panel on Climate Change (IPCC) issued what some scientists regard as its "bleakest warning yet" on the rapidly accelerating climate breakdown and the impending severity of its impact on human life[2]. Hans-Otto Pörtner, a co-chair of IPCC's working group 2, said:
"The scientific evidence is unequivocal: climate change is a threat to human wellbeing and the health of the planet."
"Any further delay in concerted global action will miss a brief and rapidly closing window to secure a liveable future."
The UN Secretary General, Antonio Guterres, has referred to the ongoing climate change crisis as resulting from an "abdication of leadership".
Clearly, as medical leaders invested in the long-term health and wellbeing of our populations, we must all do so much more, and right now, including working with our sustainability clinical fellows and champions to support ongoing work to reduce the NHS's carbon footprint.
The IPCC's third working group issued its report last week, 4 April[3], in which growing new forests and restoring soils and landscapes was highlighted as essential, along with the warning that this alone would not be enough to cancel out the current rate of fossil fuel emissions, so that part of the international sustainability agenda must step up.
FMLM's 'laying down roots' campaign is ongoing and has already started to fund tree planting on National Trust sites. FMLM dedicated its own donation in honour of its former Chair, Dame Clare Marx, who retired as Chair of the GMC due to ill health, last year.
It would give me great pleasure if you, your teams and wider healthcare colleagues would like to join me in donating towards this important venture. It costs approximately £5 per sapling (which are chosen by the National Trust, depending which area/soil they are planting) and it would be wonderful if we could plant enough for every member and fellow of FMLM.
With huge thanks in advance for your support – I look forward to updating you with our progress. Until then, my very best wishes for a healthy and happy Easter.
---
[1] Intergovernmental Panel on Climate Change (IPCC), Working Group II, Sixth Assessment Report: Impacts, Adaptation and Vulnerability (2022). Accessed at https://www.ipcc.ch/report/ar6/wg2/
[2] The Guardian (28 February 2022). IPCC issues 'bleakest warning yet' on impacts of climate breakdown. Accessed at https://www.theguardian.com/environment/2022/feb/28/ipcc-issues-bleakest-warning-yet-impacts-climate-breakdown
[3] Intergovernmental Panel on Climate Change (IPCC) Working Group III Sixth Assessment Report. Accessed at https://www.ipcc.ch/