Clare Marx elected as FMLM Chair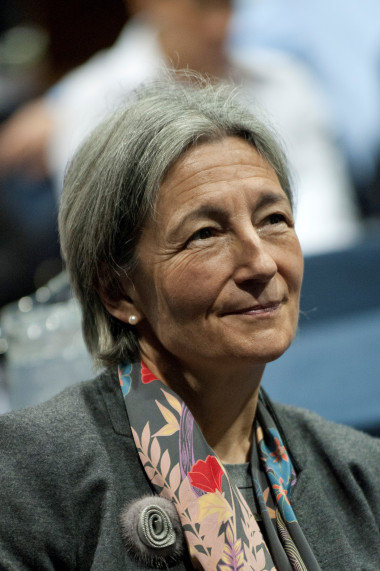 FMLM is delighted to announce that Clare Marx has been nominated and elected unopposed for the position of FMLM Chair.
Clare Marx CBE DL FRCS SFFMLM is Associate Medical Director for Appraisal and Revalidation at Ipswich Hospital NHS Trust. In 2008 and 2009 Clare was President of the British Orthopaedic Association and was President of the Royal College of Surgeons of England between 2014 and 2017.
As part of the nomination process, Clare has made the following statement to support her nomination:
"The history of clinicians in leadership shows it's not good enough just to have clinical leaders. We need those leaders to be educated, informed, skilled and supported if they are to prosper and grow their leadership, to deliver the vital and sustainable changes the NHS requires and develop new thinking which makes a meaningful contribution in our real world. I have been a Council member of this Faculty as a representative of the Academy since 2013 and have encouraged supported and facilitated its development and growth under the superb leadership of Peter Lees and the past Chair Sir Neil Douglas.
"My leadership history began in my own hospital as clinical director and much later as Associate Medical director. Many of my early experiences in those roles were totally uninformed and success was almost certainly due to good luck and the guidance of colleagues and friends. After such experience I firmly believe now that, in the same way that we do not expect clinicians to carry out clinical tasks of which they have no knowledge or skill, we need to ensure that clinical leaders are suitably prepared. I am committed to helping develop and communicate standards, knowledge and networks for the benefit of all the fellows and members of FMLM enabling and supporting the next generation of clinical leaders.
"For over a decade all my roles in professional leadership, SAC Chair in T&O, Council and President of the British Orthopaedic Association, Patient Safety Lead and Chair of the Invited Review of the RCS England and Council and President of the RCS England have convinced me that leadership styles and skills can be taught and developed. I know I have benefitted from professional development and have brought effective chairmanship and leadership to the roles I have undertaken. I have current knowledge of and working relationships with the NHS and arm's length bodies across the four nations and extensive networks for communication. In addition, the last 3 years as President of RCS England have developed my internal and public communications skills with many lectures, seminars and media interviews.
"Looking around the world the successful medical institutions tend to be led by clinicians who choose to use their skills and knowledge in leadership roles. During my time as President of the RCSEng I have worked at finding ways of partnering with the Faculty to deliver affordable high quality courses and these will now be starting in the autumn this year. I hope to have the opportunity of offering my time and skills as Chair of FMLM for the benefit of the Faculty, its fellows and members; enabling it to remain a vibrant, forward looking and growing body of future medical leaders."

On her election to FMLM Chair, Clare released the following statement:
"I am thrilled to be elected to succeed Sir Neil Douglas as Chair of FMLM when he steps down later this year. I know I will be part of an extraordinarily talented and hardworking team. FMLM has become a vibrant and energetic organisation under Neil's leadership, and to ensure that its reach and influence continues I will be working hard to be both visible and enabling. I look forward to meeting as many of you as possible at the upcoming Leaders in Healthcare conference in Liverpool on 30 October to 1 November."
Miss Clare Marx, FMLM Chair Elect
Peter Lees, FMLM Chief Executive and Medical Director commented:
"I am absolutely delighted to hear of Clare Marx's appointment as FMLM Chair. She brings visionary leadership, great wisdom and extensive experience to lead the organisation as it delivers the new five year strategy. It is timely to acknowledge the enormous contribution of Sir Neil Douglas who, as chair of the Academy of Medical Royal Colleges in 2010, was the prime mover in the establishment of FMLM. I will greatly miss Neil's huge support, his leadership and wise counsel, but know that Clare will be an outstanding successor."
On behalf of FMLM we congratulate Clare on her election as Chair and look forward to benefitting from her experience and drive in improving medical leadership and management across healthcare.