Conference poster competition winners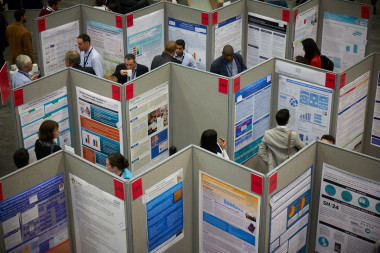 Leaders in Healthcare 2018 welcomed over 190 posters and provided an opportunity for individuals and teams to showcase their work with more than 800 conference attendees.
For the first time, FMLM held a Leaders in Healthcare poster competition to identify the best pieces of work on display,
Posters were assessed by a judging panel throughout Thursday and Friday, with a winner selected for each of the six streams.
Our congratulations to the six winners:
Developing effective leaders – D7 - The evolution of a leadership development programme for aspiring consultants in a mental health trust – Dr Lenny Cornwall, Consultant, Tees, Esk & Wear Valleys NHS Foundation Trust
Enhancing your leadership skills – E6 - Returning to the Emergency Department Course – Dr Alexandra Hughes, CT3, Yorkshire and Humber Deanery
Leadership lessons from across the world – LL1 - Post-Brexit views of European Union doctors on their future in the NHS: a qualitative study – William Chick, Medical Student, University of Birmingham
Leading across complex systems and organisations – LA3 - Southwark's transformational system-wide approach to deliver population health outcomes through Personal Medical Services contract review – Rebecca Dallmeyer, Executive Director, Quay Health Solutions
Leading innovation and improvement – Ll44 - Treatment Escalation and Resuscitation decision-making at Medway Foundation Trust – Abbi Graham, Medical Student, Kings College London
Understanding leadership through research – U8 - Impact of Clinicians on the Board of Acute NHS Trust on Healthcare Quality Performance of the Organisation – Rabia Imtiaz, Deputy Medical Director, Kettering General Hospital NHS Trust
The lead presenter-delegate for each winning poster received a year's complimentary FMLM membership. We look forward to supporting the winners in the year ahead, as well as exploring opportunities for sharing their ideas and research with wider audiences.
FMLM would like to thank all of the poster judges for giving up their time to review the poster displays, we are grateful for the support of FMLM Fellow Dr Nick White for acting as lead judge, reviewing the work of the judging panel and confirming the winners in each category.
More than 100 poster abstracts displayed at Leaders in Healthcare are also available for viewing in a BMJ Leader submission published 1 November 2018. BMJ Leader is the official journal of FMLM and open to all FMLM members here.