How to be…a junior doctor on social media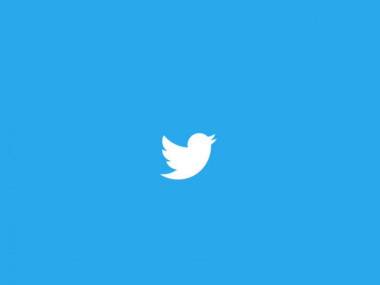 Social media use as a professional can be daunting. Doctors often worry that what they post will land them in trouble with a host of people, such as their employer, regulator or the patients they look after. The reality is though that, with due consideration, such occurrences are rare and the overall benefits of social media use for doctors clearly outweigh the risks.
Regulation
The main piece of guidance to be aware of is the GMC's Doctors' use of social media (2013) [1]. Though dated when we consider how fast social media has progressed in recent times, the premise it is based on is that of Good Medical Practice [2]. The main points to take away are:
If you plan on maintaining a professional medical presence on social media, you should use your real name as it appears on the GMC's medical register.
If you have separate personal and professional presences on social media, but you are contacted for medical advice through a personal account, the GMC state that you must redirect that query to your professional account.
The GMC's guidance on behaviours as a doctor also apply to social media; this includes bullying, harassment, making unsubstantiated comments about individuals/organisations etc.
Being aware of privacy; even when forums are closed there is a possibility that comments can be traced back or a screen shot taken. Furthermore once something is posted online it can be difficult, if not impossible, to fully remove from the internet.
It is also usually the case that your employer will have an internal policy on social media usage of their employees. Usually these are about avoiding bringing the organisation into disrepute, with considerable overlap to that which the GMC have already set out.
The Benefits
Social media has changed the way information is disseminated. It is often the case now that news is first communicated through this medium. The growing number of users across various platforms also allow for discussions to take place between professionals, such as doctors, and other stakeholders, such as patients, commissioners, academics etc. In the health policy world, you will struggle to find a report launch that is not accompanied by a robust social media dissemination strategy. Social media platforms (especially true with Twitter) make senior figures more 'reachable' with their responses heavily scrutinised by the wider social media community, arguably improving transparency.
On a personal professional level, social media offers a doctor a way to communicate with patients from their specialism, academics driving clinical advancement, policy makers that define service delivery and colleagues within healthcare. Previously the only real way to achieve such a reach was through large and often expensive residential conferences, however even those events are now heavily reliant on social media.
So how do you make the best out of a social media platform, such as Twitter?
Personal professional social media presence
If we use Twitter as an example, the first thing to do is join. Yes there are all sorts of worries and stories about things going very wrong, but if the advice in this guide is followed it is unlikely that such horror stories will happen.
Comply with the GMC's social media guidance – You should identify yourself with your full name on your profile and say that you are a doctor. It is up to you what else you place on your profile (e.g. specialty, professional affiliations, employer etc.). It is important to be aware of any other 'local' policies on social media. These include, but are not limited to those from your employer and any organisations where you have identified an affiliation. You will often see Twitter users write 'views my own, retweet does not equal endorsement' or words to that effect. There is nothing wrong in stating this, but be mindful that the very fact that you are a medical doctor can mean that lay people hold your opinion in a high regard – and similarly are quick to scrutinise what you write.
Identify who you would like to follow – You will have joined social media for your own professional reasons. Use these reasons to guide what you wish to engage with. An example would be that your interest is in health policy, therefore you would follow organisations like NHS arms-length bodies, think tanks, professional associations and their employees/representatives. This makes your Twitter feed 'relevant' to your interests.
Identify how you wish to engage – It may be that you wish to use Twitter as a type of read-only 'news feed'. That is perfectly acceptable. You may feel that you wish to get into conversations online, 'replying' to tweets from those you follow as well as 'liking' and 'retweeting' (disseminates to the twitter feeds of those that follow you) certain tweets. It may be that you want to send out tweets yourself to your followers, who may then reply to you and/or retweet your tweet to their followers. You can also be contacted by direct message – whilst this does not appear on public Twitter feeds, be mindful that this information can be easily 'screen-shotted' and disseminated.
Be aware of 'trolls' – There will be some on social media that fundamentally disagree with your views. Often this is where the most enlightening conversations happen. However there are some who are unlikely to engage in productive debate, and may look to marginalise you or even target you with abuse. It is best to disengage with such individuals on social media as you are unlikely to 'win them over'; attempting to do so may cause you more harm than good. Social media platforms usually have 'mute' options or the ability to block someone. Where clear abuse is taking place there are procedures to report that person to the social media platform you are using.
Suggested Twitter etiquette
It can be very easy in the heat of the moment to tweet something you later regret. There is no one way to guard against this and people often have and develop different approaches to using Twitter. As medical professionals we do possess transferable skills that can help with this (technical expertise, critical appraisal skills, written communication etc.) and it would be remiss of us not to use them.
To illustrate I have provided an example below of how this can be achieved, using the publication of a peer-reviewed article from my specialty (psychiatry) from 2017. The aim of this is to present facts with a personal interpretation and a link to current policy work to emphasise relevance. This is something any medical professional could do within their own field of expertise.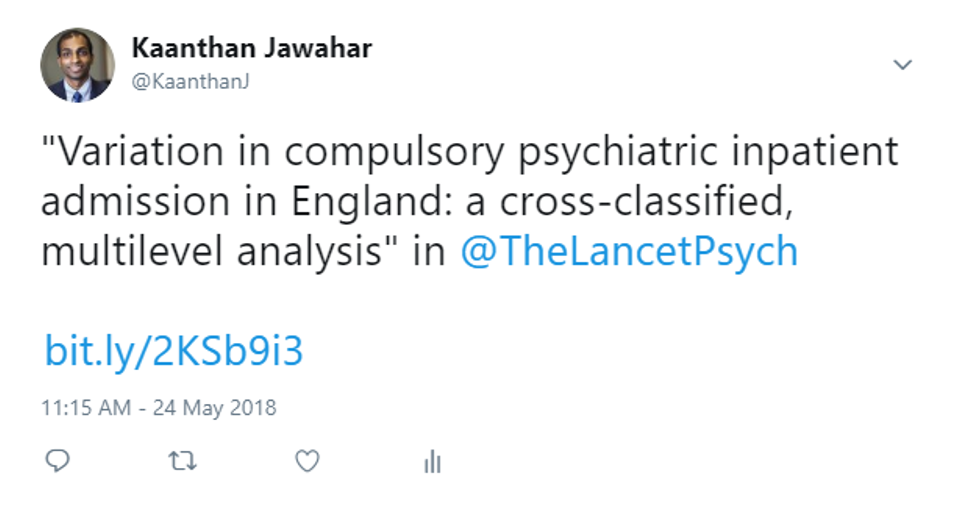 Using my personal account I have composed a tweet that consists of the journal article's title and the Twitter handle of the journal it is published in. The aim of doing this is so the journal is aware that I have sent out this tweet – this will allow them to 'like' and/or 'retweet', which would extend the reach of my tweet. I have also provided a link to the article, and used a URL shortening website for aesthetics (here I used bit.ly).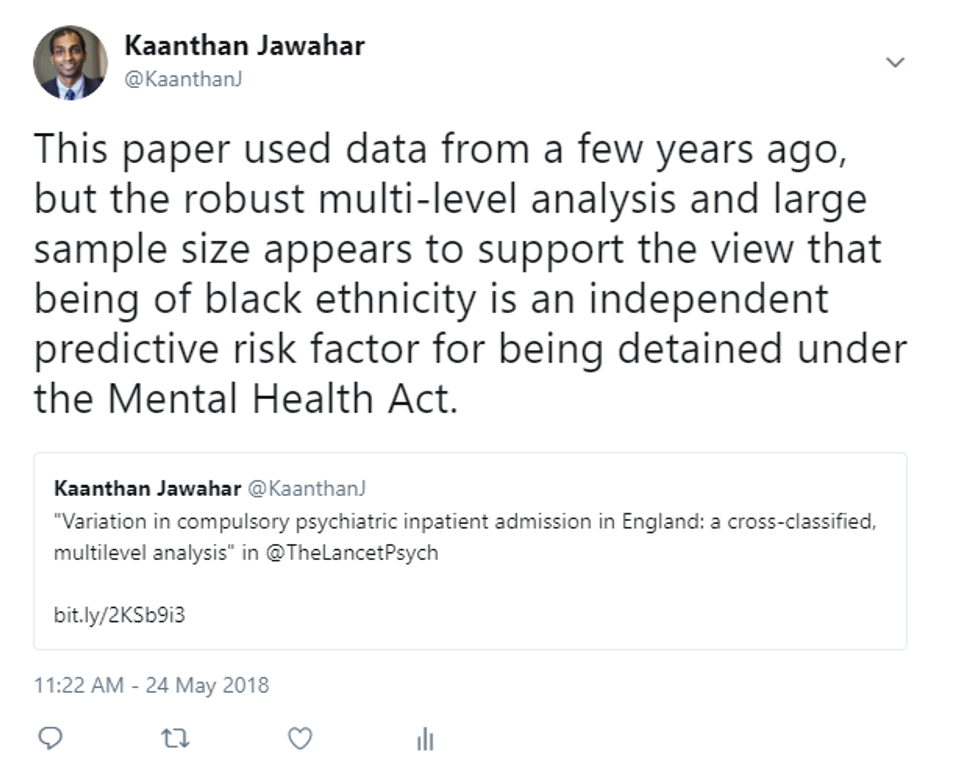 What I have done here is offer a summary of the author's conclusions. In addition, I have 'quoted' my initial tweet, so that the link to the article is still easily available. Quoting your tweet is done through the 'retweet' button, but you would 'retweet with a comment'.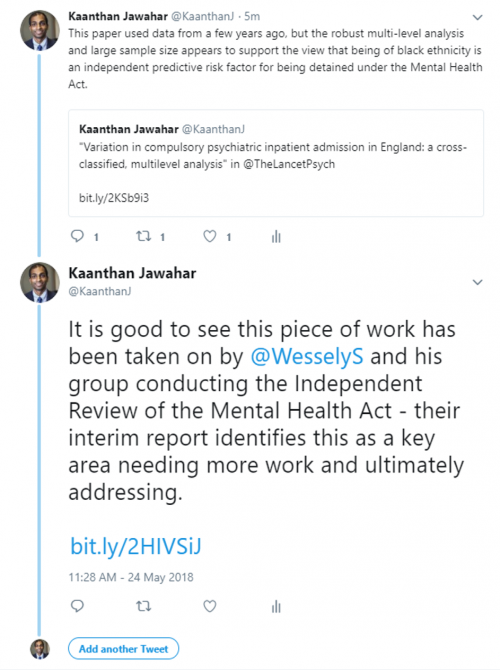 Finally I have replied to my second tweet linking this journal article to current policy work. I've used the Twitter handle of the person leading this independent review, again in an effort to increase exposure. I've also provided a direct link to the interim report of this group that corroborates this. To note: replying to your own tweet creates a 'thread'. More can be added to the thread by clicking the 'add another tweet' option.
Summary
To reiterate what was mentioned earlier, everyone has differing styles on social media for professional use. The 5 key points to follow are:
Don't be afraid of social media. With a few tools and understanding of appropriate professional use, the benefits far outweigh the risks.
As a medical professional, utilise the skills you already possess; communication, critical appraisal, debating etc.
The GMC's social media guidance and Good Medical Practice outline certain 'shoulds' and 'musts' if you are to identify yourself as a doctor on social media.
Each social media platform has different ways of use – identify what you wish to get out from said platform and tailor accordingly.
Enjoy using it! Social media has revolutionised communications on a global scale. In the same way that medicine progresses on a daily basis, it would be remiss of us to not keep up with the times.
FMLM TSG External Communications Lead
---
[1] Doctors' use of Social Media. GMC. 2013. Accessed 14/05/18 https://www.gmc-uk.org/-/media/documents/doctors-use-of-social-media_pdf-58833100.pdf
[2] Good Medical Practice. GMC. 2014. Accessed 14/05/18 https://www.gmc-uk.org/-/media/documents/good-medical-practice---english-1215_pdf-51527435.pdf