Leadership and leadership development in health care: the evidence base
The most comprehensive, up-to-date review of the evidence available for leadership of health services and their effects on patient care is now available.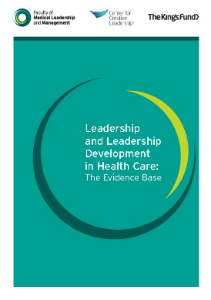 Leadership is the most influential factor in shaping organisational culture so ensuring the necessary leadership behaviours, strategies and qualities are developed is fundamental. There is clear evidence of the link between leadership and a range of important outcomes within health services, including patient satisfaction, patient mortality, organisational financial performance, staff well-being, engagement, turnover and absenteeism, and overall quality of care.
Published by FMLM with The King's Fund and the Center for Creative Leadership, this review suggests that the challenges faced by healthcare organisations are too great and too many for leadership to be left to chance, fads, or piecemeal approaches. Therefore, approaches to developing leaders, leadership and leadership strategy can and should be based on robust theory with strong, empirical support and evidence of what works in health care.