Leadership category of BMJ Awards open for submissions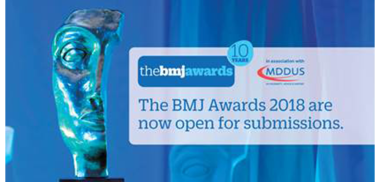 The Clinical Leadership Team of the Year category of BMJ Awards is now open for submissions.
The category is sponsored by FMLM and GMC, and as always we hope to see many deserving teams nominated. If you think your team is delivering high quality care with exceptional leadership, then please put your team forward.
Perhaps your team's recent innovation improved the quality of care for patients in your area? Or perhaps you have been consistently punching above your weight with the service you have delivered for many years?
Previous winners include GP consortium, Haverstock Healthcare, for delivering integrated services which reduce hospital admissions in Camden, London, and the Perinatal Institute for their work to reduce the number of still births and enhance the safety and quality of maternity care in the West Midlands.
FMLM is proud to sponsor this award, and we look forward to hearing about your achievements.
For details on entering, visit the BMJ Awards website.