Let's push on with leadership development for junior doctors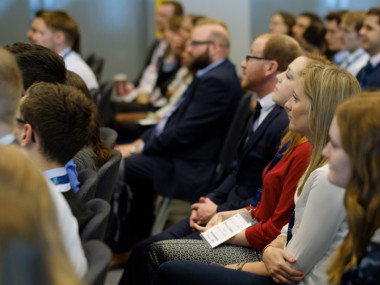 by Hannah Baird
Firstly, a massive 'thank you' to Judith Tweedie, the outgoing chair who has done a fantastic job over the last few years and really moved the committee into a great place.
While excited to take on this new role I admit I am slightly daunted, especially with such big shoes to fill.
Firstly, a bit of an introduction: currently, I am an ST2 ACCS trainee based in the North West who is undertaking a 50% improvement science fellowship alongside my clinical training. I have been involved with FMLM for several years, joining the Trainee Steering Group (TSG) 18 months ago as the representative for the North of England. I have had an interest in medical leadership for several years, it being something I fell into after undertaking a quality improvement (QI) project and realising I knew very little about both QI and medical leadership. Looking to learn more I joined the North West Medical Leadership School, an initiative set up for-trainees-by-trainees, delivering evening events around leadership topics.
So, why am I part of the FMLM TSG? I feel strongly that medical leadership is about every doctor, not just senior leaders or aspiring managers. It is everybody's business - it's about how we conduct ourselves, how we develop and how we work with others – both on an individual level and within our day-to-day teams.
It has been a difficult time for junior doctors in recent years, and now more than ever I think we need to be able to show leadership, harness enthusiasm, and not fall into a pit of learned helplessness. Junior doctors have repeatedly been referred to as 'agents of change', however the ability to be these 'change agents' is not necessarily innate; we need guidance and support to utilise our voice effectively. We also need to grow confident in our own abilities and interests – wanting to further our knowledge in medical leadership is not something that we should shy away from acknowledging; this is something I'll discuss in my next blog, prompted by a recent shadowing experience.
The TSG recently wrote a report entitled The state of medical leadership and management training for junior doctors. This report is based on a survey conducted on junior doctors' attitudes and access to medical leadership and management training. In the report, some of the key findings were that:
97% of respondents felt that leadership and management training was important.
around 50% felt that their own training was inadequate to implement change, even at a local level.
despite 83% saying they had completed an audit or QIP, only 31% thought their ideas for service improvement had been sustainably implemented.
some 20% of respondents did not know where to go to get help and support.
Though the importance of leadership and management has evidently been echoed by trainees around the UK, this report clearly demonstrates there is more to be done. We, as the FMLM TSG, have made a commitment to help improve this.
Using the results of the survey, the TSG has set out its strategy for the next two years. Our work will focus on raising the profile of the FMLM and the TSG, providing and signposting junior doctors to leadership resources and opportunities, both in their regional areas and nationally. We plan to continue with the successful 'How to guides…' offering topics such as 'How to arrange shadowing experience' 'How to write a business case'. We plan to help trainees identify the leadership and management competencies in their individual specialty curricula and create a leadership personal development plan for junior doctors to use. Alongside this we will use our networks to lobby medical directors to involve junior doctors in Trust committees and appeal to the Royal Colleges for further uptake of the successful chief registrar scheme.
Follow us on twitter @FMLM_TSG or tsg [at] fmlm [dot] ac [dot] uk (email us) to see how you could get involved.