Clinical Fellow Schemes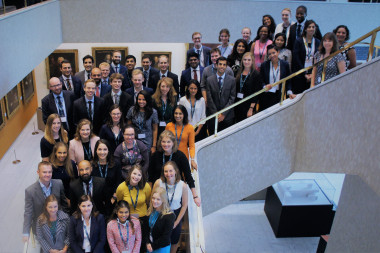 Clinical fellow schemes offer emerging clinical leaders with the opportunity to develop skills in leadership, management, strategy, project management and health policy outside of clinical practice.
Clinical fellows have the opportunity to work with senior leaders to fast track their leadership skills and experience in a diverse range of organisations. Host organisations have the opportunity to be part of a prestigious scheme to develop a growing pool of future clinical leaders who will go on to shape healthcare in this country.
Learn more about clinical fellow schemes

FMLM oversee a broad portfolio of clinical fellow schemes that aim to provide opportunities for aspiring clinical leaders to gain essential skills and experiences required for future leaders. Please click on a scheme below to learn more about what clinical fellow schemes can offer and how to apply.
A defining experience for emerging medical leaders

The scheme embeds doctors in training at the heart of national healthcare organisations offering an unparalleled experience.

Inspiring pharmacists to develop as leaders of the future

Offering pharmacists the unique opportunity to work with and lead on projects of national importance with senior pharmacy leaders and teams.

Empowering dentists, developing leaders, enabling progress

A fully immersive and intensive experience designed to gain unique and essential professional insight, skills and experience outside of the clinical setting.

Clinical leadership changing the face of healthcare for the future

Developing clinical leaders to deliver a greener NHS across clinical pathways.

Expanding development opportunities for aspiring clinical leaders

A regional pathway for multi-professional clinicians to lead improvement projects and gain experience and skills for future system leadership roles.

Equipping senior nurses to lead at a national level

Increasing senior clinical leadership capacity and capability within the profession.

Supporting future leaders at all stages of their leadership careers

Keeping alumni connected, supported and providing a multiprofessional talent pool for the benefit of healthcare to draw on and engage with.

Clinical Fellow Created Content

Webinars, Podcasts and Publications

View content created exclusively by clinical fellows from national and regional clinical fellow schemes.