Step-by-step FMLM Fellowship application guide
If you are considering applying for FMLM fellowship, read this helpful step-by-step guide to help you get started.
Step 1: Read the standards
The FMLM Leadership and Management Standards for medical professionals are a set of core values and behaviours designed to help doctors to be effective medical leaders at all levels. Using the FMLM Standards, reflect on your own practice and how you:
understand yourself and your impact on, and interactions with others
lead your team and get the best out of them
contribute to the strategic direction and operational delivery of your organisation
positively influence the strategy and culture of the healthcare system
Step 2: Decide which fellowship level is right for you
FMLM Fellowship is available at three levels. Each level is mapped to the domains of the FMLM Standards. It is important that you can competently evidence your skills, values and behaviours of the required domain(s) to be eligible to apply at that level.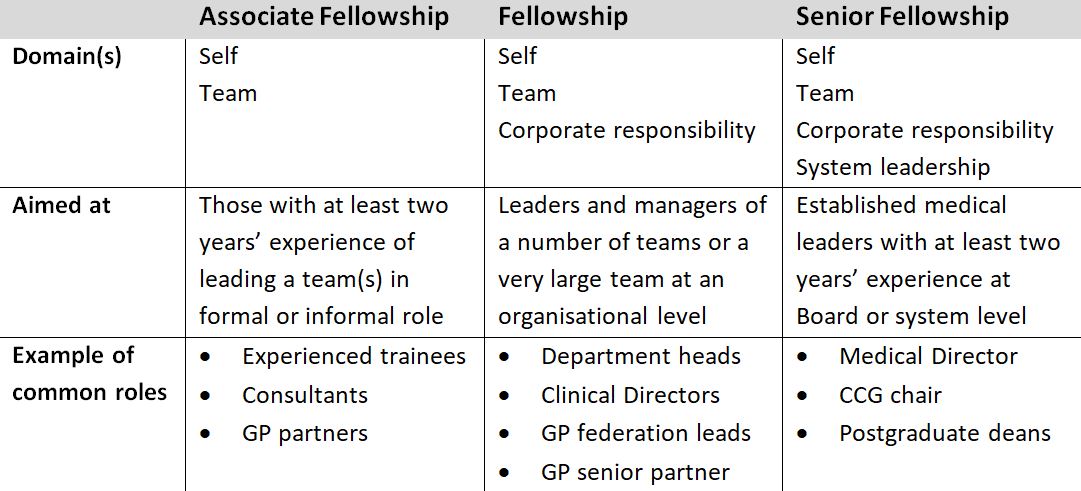 If you are not sure which level to apply for – contact the fellowship [at] fmlm [dot] ac [dot] uk (FMLM Team) who can discuss this with you.
Step 3: Check your appraisal
Ensure your appraisal is up to date and signed/locked. Your appraisal must be dated within the last 12 months to be eligible.
Step 4: Collate multi-source feedback
Plan sufficient time to undertake a multisource/360° feedback exercise.
Your 360/multi-source feedback isn't just for supporting information, it is a valuable source of information about your leadership style and interactions. Ask yourself and reflect in your application, "what are my core values and how are these demonstrated in my examples?", "how has this learning affected my subsequent practice?", "what areas for development have I identified and how have I addressed these?"
Post-CCT applicants will need to submit a FMLM 360 report which has been specifically designed for doctors in leadership and management roles and is mapped to the FMLM Standards. The FMLM360 can also be used for appraisal and revalidation purposes.
360 Feedback must be dated within the last three years.
Step 5: Approach your referees
Approach two referees before submitting their names to ensure that they have enough time to reflect on their reference in support of your application.
Step 6: Put dedicated time aside time to complete your application form
Provide evidence of how your leadership behaviour has translated into practice, corroborate statements and reflections with clear examples of the impact and outcome of your actions as a medical leader
Once complete, return to the application after a day or two and review your submission.
Step 7: Ensure your membership subscription is up to date
FMLM Fellowship is only open to FMLM members practising in the UK.
Step 8: Pay application fee
You can pay online here.
Step 9: Submit your application
Submit your application and supporting information to fellowship [at] fmlm [dot] ac [dot] uk.