Step-by-step FMLM Fellowship application guide
If you are considering applying for FMLM fellowship, read this helpful step-by-step guide to help you get started.
Please note: International Fellowship and Collaborative Fellowship applications have a different process - please contact fellowship [at] fmlm.ac.uk for more information.
Step 1: Read the standards (30 minutes)
The FMLM Leadership and Management Standards for medical professionals are a set of core values and behaviours designed to help doctors to be effective medical leaders at all levels. Using the FMLM Standards, reflect on your own practice and how you:
understand yourself and your impact on, and interactions with others
lead your team and get the best out of them
contribute to the strategic direction and operational delivery of your organisation
positively influence the strategy and culture of the healthcare system
Step 2: Decide which fellowship level is right for you (10 minutes)
FMLM Fellowship is available at three levels. Each level is mapped to the domains of the FMLM Standards. It is important that you can competently evidence your skills, values and behaviours of the required domain(s) to be eligible to apply at that level.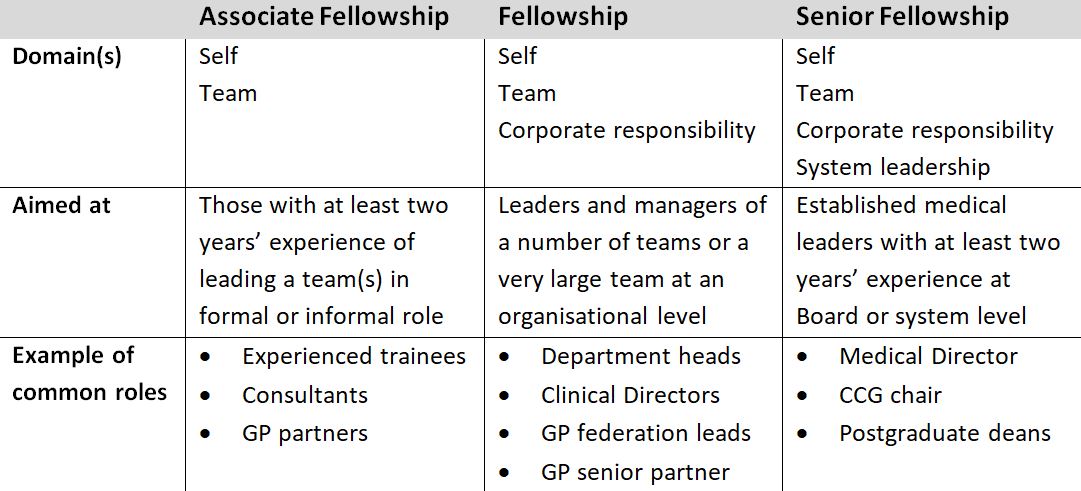 If you are not sure which level to apply for – contact the fellowship [at] fmlm.ac.uk (FMLM Team) who can discuss this with you.
Step 3: Check your appraisal (10 minutes)
Ensure your appraisal is up to date and signed/locked. Your appraisal must be dated within the last 12 months to be eligible.
Step 4: Collate multi-source feedback (one hour)
Plan sufficient time to undertake a multisource/360° feedback exercise.
Your 360/multi-source feedback isn't just for supporting information, it is a valuable source of information about your leadership style and interactions. Ask yourself and reflect in your application, "what are my core values and how are these demonstrated in my examples?", "how has this learning affected my subsequent practice?", "what areas for development have I identified and how have I addressed these?"
Post-CCT applicants will need to submit a 360 report which has been specifically designed for doctors in leadership and management roles and is ideally mapped to the FMLM Standards. The FMLM 360 can also be used for appraisal and revalidation purposes. It is vital for the strength of your application to reflect on the results of your latest 360.
360 Feedback must ideally be dated within the last year.
Step 5: Approach your referees (30 minutes)
Approach two referees before submitting their names to ensure that they have enough time to reflect on their reference in support of your application.
Step 6: Put dedicated time aside to complete your application form (three hours)

The application is made up of sections where you are able to share examples of your leadership, both in your career and in your ethos and ambitions, with reference to the FMLM Standards.
You are expected to submit:
Information about your current role, past education and leadership or management roles you have undertaken
A personal statement and application of evidence
Your current CV (no longer than 5 pages)
A multisource feedback report – either by making use of our FMLM 360 tool (If you are a doctor or dentist) or a similar application.
Upload your most recent appraisal summary (MAG, ARCP or other) signed off by your appraiser.
Provide details of two reference names.
Provide evidence of how your leadership behaviour has translated into practice, corroborate statements and reflections with clear examples of the impact and outcome of your actions as a medical leader
Once complete, return to the application after a day or two and review your submission. Check you have provided sufficient examples against the FMLM Standards and have reflected on them.
Step 7: Ensure your membership subscription is up to date
FMLM Fellowship is only open to FMLM members - you may join as an FMLM member as part of your application for FMLM Fellowship.
Step 8: Pay application fee

The application fee for applying for fellowship is:
£350 for Fellowship and Senior Fellowship
£250 for Associate Fellowship
Payment is made online as part of the application process.
You can pay online here.
Step 9: Submit your application
Submit your application and supporting information to fellowship [at] fmlm.ac.uk.
Click here for our Fellowship FAQs but please do not hesitate to email us if you have any other questions.
After you have submitted your application.
Please note applications take approximately 2 to 3 months to process.
After you have submitted your application and your references have come back to us you will be enrolled into the next Assessment Panel.
Once the panel have granted you with the award of Fellowship you will be informed and asked to create an online profile – we really value the profiles of our Fellows to inspire the next generation of applicants.
You will then receive your official FMLM Fellowship certificate and be encouraged to share your Fellowship status on your social media and with your organisation.
Click here to read more about the different levels of Fellowship and to begin your application.
Good luck with your application and we look forward to welcoming you into the FMLM Fellowship community.
Do not underestimate yourself - be proud of the changes you have made within your organisation.
Application fee
The application fee for applying for fellowship is:
£350 for Fellowship and Senior Fellowship
£250 for Associate Fellowship
Payment is made online as part of the application process.
Please note applications take approximately 2 to 4 months to process.