Announcement of Rich Withnall as new FMLM Chief Executive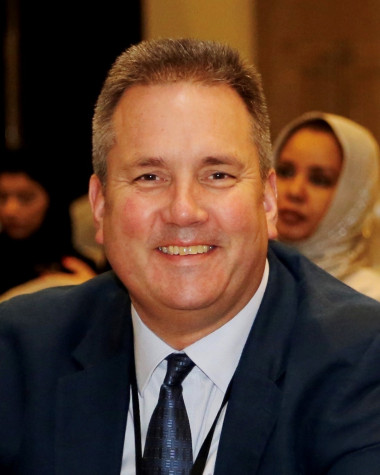 Air Vice-Marshal Professor Rich Withnall KHS to become Chief Executive Officer of the Faculty of Medical Leadership and Management in June 2023
One of the UK's most senior medical leaders whose career has included military service across multiple continents, advising the UK Government on national medical emergencies, and serving as Honorary Surgeon to Their Majesties Queen Elizabeth II and King Charles III, has been appointed to lead the nations' foremost body for medical leadership.
Air Vice-Marshal Professor Rich Withnall KHS will retire from his current role as Director of Defence Healthcare, UK Ministry of Defence, to take up his new position as Chief Executive Officer (CEO) of the Faculty of Medical Leadership and Management (FMLM) in June 2023.
He succeeds inaugural CEO Mr Peter Lees, who stepped down after 12 years in the role having built FMLM to a force of more than 2,600 UK and international members and fellows.
Under Mr Lees' leadership, FMLM – established jointly by all the Medical Royal Colleges and Faculties and endorsed by the Academy of Medical Royal Colleges – has earned a reputation of enabling direction and support for those in healthcare and medical and dental leadership positions across the UK through a portfolio of development programmes and initiatives.
He established the National Medical Directors Clinical Fellows Scheme and then further expanded it to cover a range of clinical professions, he founded the national British Medical Journal Leader peer-reviewed journal of leadership in health and care and established FMLM's annual conference for clinical professions globally.
Professor Withnall will expand and build on FMLM's successes as the healthcare sector faces both long-running and emerging challenges.
Professor Withnall said: "I believe passionately that excellence in medical leadership is essential to drive continuous improvement in health and healthcare and maximise positive patient outcomes, enhance care for the carers, and optimise value for money".
"We need strong medical leadership, now more than ever, to meet numerous challenges including NHS reforms, a shrinking UK medical workforce on the brink of strike action, COVID far from resolved, an ageing UK population, a cost-of-living crisis ahead of a forecasted deep and sustained economic recession, global instability influenced by the war in Ukraine, and an ever-increasing need for sustainability."
FMLM's Medical Director and Acting CEO Dr Paul Evans said: "Rich joins at a pivotal time for medical leadership and for FMLM. Our objective has remained the same since we started in 2011 – to raise the standard of patient care by improving the leadership abilities and capabilities of everyone in a healthcare leadership position, so that they are empowered to drive continuous improvement. I am delighted, as is the FMLM team, to have someone of Rich's calibre as our CEO; his considerable experience, leadership and drive in this area will be of incredible benefit to UK healthcare and to patients."
Professor Withnall has been clinically current throughout his 34-year career which started when he joined the RAF as a Medical Cadet aged 21.
As Director of Defence Healthcare, Professor Withnall has been responsible for 88% of the Defence Medical Services workforce, more than 400 medical and dental facilities worldwide, and the delivery of military primary care, dental care, mental health, occupational health and rehabilitation services – accounting for more than 90% of DMS patient contacts - to more than 200,000 Defence People and their families.
He is a Fellow of the Royal College of General Practitioners (RCGP), a Fellow of the Academy of Medical Educators, a Senior Founding Fellow of FMLM, and a Chartered Manager. His national and international leadership experience includes being Chair of the Committee of the Chiefs of Military Medical Services in NATO (COMEDS)'s Futures Advisory Board; Chair of Warrior Care in the 21st Century within the INVICTUS Games; RCGP Chief Examiner, RCGP International Medical Director, GP Advisor to the Foreign, Commonwealth and Development Office, GP Specialty Advisor to the UK Academy of Medical Royal Colleges, and Convener of the World Organisation of Family Doctors (WONCA) Special Interest Group on Conflict and Catastrophe Medicine.