Communication and engagement: Junior Doctor Representative Group - Tameside and Glossop Integrated Care NHS Foundation Trust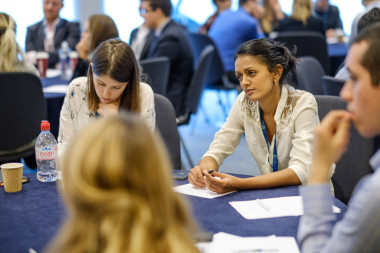 In 2013 the trust was placed into special measures and under enhanced educational monitoring following concerns over unsafe patient safety and training environments. To address some of these concerns the Board and DME initiated meaningful engagement with junior doctors through a JDRG focused on long-term outcomes. This was paired with direct communication lines between the business unit and postgraduate medical education department. These reforms have coincided with improvements in the trust's CQC rating and in various domains on the GMC survey.
The main challenge was to rebuild the trust's reputation around patient safety and training. Many trainees were genuinely worried about working at Tameside and potential risks to careers – this was overcome by empowering them and creating infrastructure to value their voice. This had to be done in a constrained financial environment and a success of the business model was to recognise the collective long-term payback from short-term costs of small interventions (e.g. DME's time for educational activities was increased from national standard of 1 day a week to 2 day a week in recognition of the scale of the responsibility).
The JDRG was initially poorly attended. Following trainee input, it was moved to the doctors' mess to give junior doctors ownership of proceeding and held at lunch time to facilitate attendance. Trainees determined the attendee list, which included:
Medical director
Head of HR
Royal College tutors
Patient safety officer
Business managers
These changes resulted in a greater than threefold increase in attendance. This forum takes place every month and have achieved a number of significant improvements to training and service delivery. Each division has its own sub-forum to enable trainees to discuss specialty specific issues in depth.Higher level trainees were still not attending the JDRG and it was subsequently discovered that they have distinct issues and often tend to work in greater isolation from other junior doctors. As a result, the 'Yellow Forum' (named after their lanyards) subcommittee was setup with the Medical Director and DME. At its opening, 50% of eligible trainees attended this forum, which takes places every 4 months.

Recent achievements arising from the Tameside JDRG:
Medical education and training
Educator development programme in quarterly in-house development days for supervisors, funded external trainer to revalidate consultants, dedicated educator appraisals
Trust strategy to value educators through appropriate remuneration, additional input into the ARCP process and a two-way information channel
Improved ARCP and exam outcomes as well as undergraduate feedback
Consultant post applicants now specifically seek out medical education department education to demonstrate their commitment to training to the Trust.
Quality improvement
Appointing a designated patient safety for junior doctors who reads all trainee submitted forms and directly feeds back action points to submitter
24 hour monitored anonymous email inbox for raising concerns.
Junior doctor morale and engagement
Monthly training surveys and DME hospital rounds
Instant communication to all foundation trainees
Extensive feedback infrastructure to monitor improvement journeys in partnership with trainees
Leadership and management opportunities including QI projects and shadowing senior leadership.
Authored by Dr Beth Hammersley, Director of Medical Education, Tameside Hospital; Ms Pam Robinson, Postgraduate and Undergraduate Medical Education Manager