Having effective conversations with seniors and executives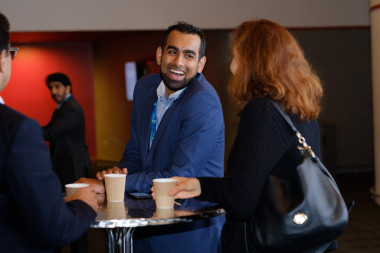 Junior doctor representative groups (JDRGs) provide a platform to effect change through discussion and negotiation with local education leaders and trust executives. Meeting with, and presenting to, senior trust executives can be daunting but often provides the best method to effect real change about important local issues.
Preparation
Define your goal from the meeting or presentation. Align your presentation and planned pitch with your objectives and the allocated meeting time. Spend time crafting your presentation to be as succinct and effective as possible – you may not have much time to make your case so be clear about what the 'ask' is.
Know your audience
Identify who is the best person in your organisation to discuss the issue with. It can often be a board member who has direct oversight of the area in question. Take time before the meeting to research their role, background and previous responsibilities. Use this information to try to understand and explore their likely responses. Seek first to understand the other party's motivations and preferences.
TOP TIP: It can be difficult to make yourself heard by managers and executives who make key decisions. Use your own contacts (eg DME, guardians of safe working hours or clinical leads) to help you access key decision makers.
Approach during the meeting
A presentation to a senior executive is likely to result in several questions about the detail or an area of their interest. These may include points of rebuttal. Try to anticipate any questions and prepare for them. Other people's priorities and perspectives should inform the tone and angle of your pitch.
TOP TIP: Ask the advice of someone with a management role to help predict what questions might arise and prepare the answers in advance.
Don't be afraid to argue your point with confidence, but always avoid being rude or dismissive. Prepare in advance to get into the correct frame of mind, then keep to time.
TOP TIP: Try and get a colleague to cover your clinical work and/or bleep, even if only for a few minutes. Clinical commitments can overrun unpredictably and this might be your only opportunity to raise this issue. So give yourself the best chance – you only have one opportunity to make a first impression.
Use the meeting to develop contacts among those you meet. Make sure that as a result of the discussions a firm action is agreed and, if appropriate, written into the minutes.
Following up the meeting
After the meeting, contact those who are responsible for that action to gently push it forward. Email key people to thank them for meeting with you and provide a short summary of your understanding of the points discussed and to confirm next steps.
TOP TIP: If senior individuals have agreed to support an action, it can be useful to copy them into your emails to those individuals responsible for taking actions forward.
If you are discussing issues with trust executives, they are likely to be important and require significant organisational change. Change takes time, particularly within large, complex organisations. Don't be surprised or disheartened if things take longer than anticipated, and prepare to discuss progress at the next meeting.
Further reading
'Getting to Yes', by Roger Fisher and William L. Ury, explores the psychology of negotiations and discusses the method of principled negotiation.
Authored by Dr Michael Fitzpatrick, University Hospitals of Oxford