Nottingham University Hospital NHS Trust case study
Nottingham University Hospitals NHS Trust (NUH) is a large teaching hospital with approximately 900 trainees. Its JDRG that was redesigned in 2015 using a distributive leadership framework. This resulted in a network of sub-forums reporting to a central committee, which included representation from senior trust management including the Medical Director, Director of HR and DMEs. This structure is illustrated in the below image.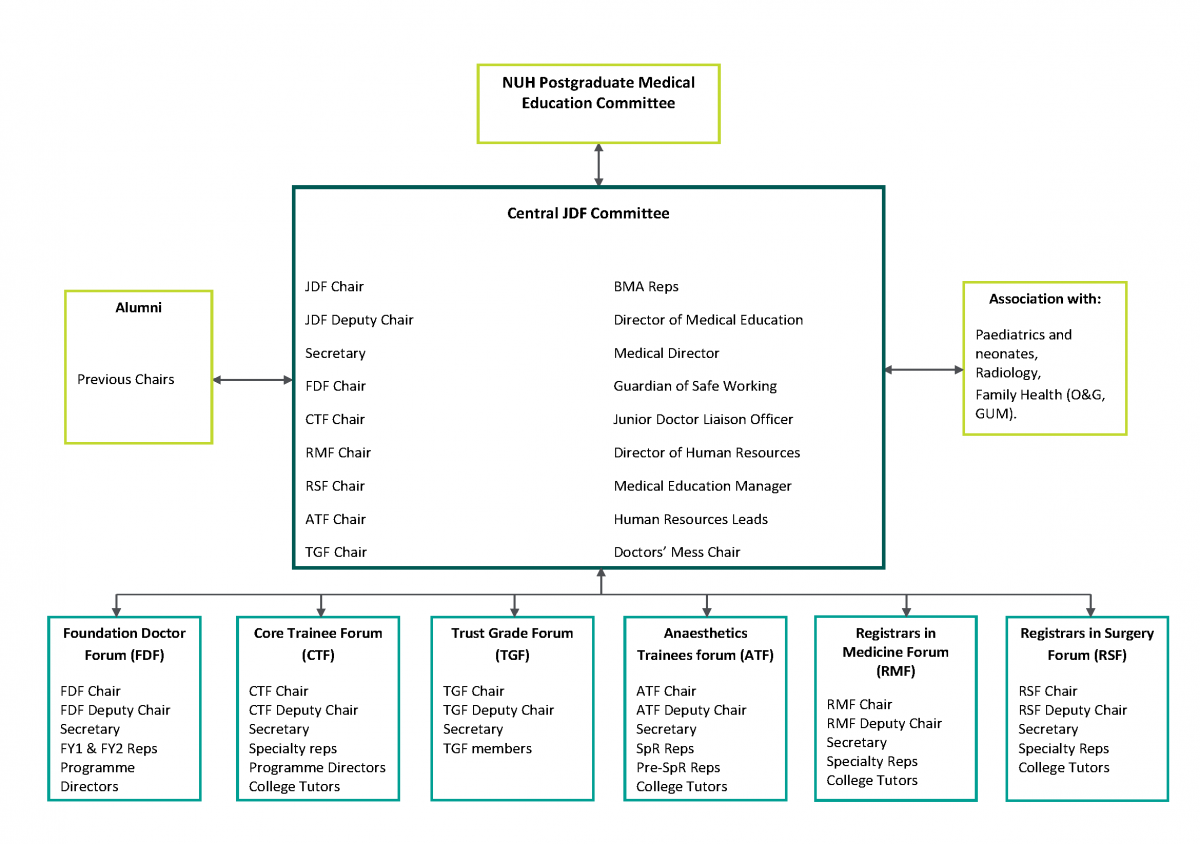 In advance of meetings, the central committee receives minutes from each sub-forum and representatives present issues that require escalation. This enables timely, proactive resolution of issues. Links exist with existing forums in radiology, paediatrics and family health (O+G and GUM) and these committees have not been restructured.
Cross-site video links have enabled individuals to attend meetings at their own site, resulting in a consistent improvement in attendance. In parallel, committee members have adopted social media, email and newsletters to aid communication and transparency. Recruitment now takes place in advance of August changeover, with the HR team sending out requests for expressions of interest to incoming trainees.
In response to the 2016 junior doctor contract and the requirement of every trust to have a junior doctor forum (JDF)to discuss contractual issues such as exception reporting, Nottingham integrated the functions of a JDF into its central JDRG committee. The central JDF meeting now includes representation from the guardians of safe working hours (GSWH) and the Local Negotiating Committee (LNC). The meetings are chaired by the GSWH on a quarterly basis.
Recent achievements arising from the Nottingham JDRG
Medical education and training
Addition of a trust grade doctor forum to facilitate SAS doctors' development needs
JDRG is now embedded into the trust's educational governance structure
Quality improvement
Currently being integrated into trust's patient safety and quality improvement governance structure.
Junior doctor morale and engagement
Appointment of a junior doctors' liaison officer
Comprehensive email database of all doctors in training
Q&A sessions with senior management to discuss concerns around the introduction of the 2016 junior doctor contract
"The new structure of the JDRG helps the trust hear issues and concerns from all the different groups of trainees working at our hospital. It is great to hear these first-hand and to be able to offer support and occasionally provide help to remove blockages to the trainees getting the help they need. The JDRG provides a great opportunity for trainees to develop different leadership skills and we recognise this by providing evidence for their GMC portfolio. The forum has developed very positively in the last year or so and I look forward to continuing to work with them to make NUH a great place for trainees to come."
Nicky Hill, Director of Human Resources
Authored by Dr Sarah Barlow, foundation year 2, Nottingham University Hospital