Quality improvement and patient safety: Junior Doctors Together (JDT), Hull and East Yorkshire Hospitals NHS Trust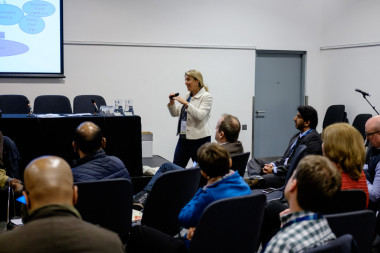 JDT is one of three JDRGs across Yorkshire. JDT is based in Hull and East Yorkshire Hospitals NHS Trust, which encompasses two tertiary teaching Hospitals. It is an internal JDRG which provides a platform to support work and discussion around quality improvement, patient safety, and junior doctor engagement outside of training programme and contract-related matters. Its functions were agreed between the medical education department, senior management and junior doctor representatives and include:
Junior doctor representation
An innovation platform
A forum to retain institutional memory.
This case study gives emphasis to the important role junior doctors can play in improving the quality of care, and how this can be nurtured in collaboration with NHS Trusts through their JDRG. A unique feature of this JDRG is an emphasis on organisation memory and talent management throughout the group. Juniors often maintain involvement with the group despite rotation to other hospitals in the region. This long-term engagement fosters organisational change and encourages the junior doctors to build up areas of interest and expertise as they continue to work with senior staff over time, learning non-clinical skills and building up a tacit understanding of the organisation also.
The JDT has a distributed leadership structure. Two junior doctors hold the chair and vice-chair positions of the group to manage the group's administration and chair the monthly meetings whilst members take responsibility for their various projects. The Trust's chief executive officer, director of medical education and deputy chief medical officer or their deputies attend each meeting; facilitating and supporting the learning of the junior doctors and the organisation itself by providing advice and opportunities in an approachable environment.
Successful quality improvement projects include:
reducing food wastage by exploring the possibility of providing unwanted patient food to staff
improving inpatient phlebotomy services to the benefit of patient flow and junior doctor training
improving the facilities available for those caring for dementia patients (i.e. family or friends) to stay overnight with their loved ones.
A current ongoing project is examining how to enhance widening participation across the locality in partnership with the Hull York Medical School.
Recent achievements arising from Junior Doctors Together:
Medical education and training
Reducing junior doctor workload
Providing supported leadership and management learning experiences through access to opportunities and senior management in an environment with a shallow authority gradient.
Quality improvement
Improvements to phlebotomy service to accelerate patient discharge and reduce junior doctor workload
Reducing inpatient food wastage and increasing ward staff morale
Improving overnight facilities for dementia carers
Enhancing local widening participation.
Junior doctor morale and engagement
Long-term engagement of both junior doctors and senior management noted.
Authored by Dr Alan Gopal, academic core trainee anaesthetics, Hull and East Yorkshire Hospitals NHS Trust; Dr Anna Greenwood, founding chair of Junior Doctors Together; Dr Elizabeth Hutchinson, vice-chair of Junior Doctors Together