Resources for medical school faculty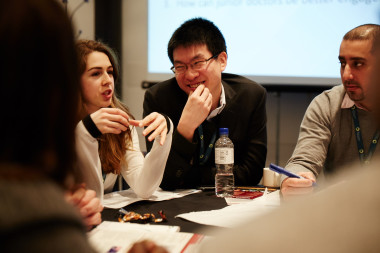 The practical tools and guidance that the Tomorrow's Leaders, Today working group produces are made availabe below. Information on the work and history of the group can be found underneath.
The indicative undergraduate curriculum for leadership and management
Launched on 5 October 2018, and endorsed by the GMC, Medical Schools Council and others, this document outlines the leadership and management competencies expected of new medical graduates. Suggested learning activities to achieve these competencies, and assessment opportunities, make this document a practical accompaniment to the GMC's new undergraduate guidance, Outcomes for Graduates, which has a greater leadership focus.
Leadership development on your mobile phone
The Healthcare Leadership Model App is designed as a tool for students of leadership at any level and will be particularly valuable for busy clinicians, those in undergraduate education, postgraduate training or for participants on leadership development programmes. It allows you to record observations about the leadership behaviours that you see around you, helping you explore those behaviours using the dimensions of the Healthcare Leadership Model. You can add in your own reflections, save and revisit your entries, set goals and reminders and download a summary pdf report for your specific programme or portfolio. The app can also be used for recording and reflecting on your own leadership behaviours. Colleagues in universities and medical schools have been particularly enthusiastic about this development as they struggle to source high quality digital resources to support leadership learning and make the most of clinical placements. The Healthcare Leadership Model App is free, open access, web-based and although accessible from your desktop, has been optimised for mobile devices. Click here to access and just save the link to your smartphone home screen.
Student selected components guidance
This document provides advice on designing student selected components in medical leadership including teaching methods, assessment and a number of case studies.
Intercalation in medical leadership guidance
This document gives guidance on successfully designing an intercalated programme in medical leadership, covering suggested aims for the programme, the likelihood of collaborating with other departments, common topics for a curriculum and two case studies.
Medical electives guidance
This document is a guide to electives in medical leadership and management. It covers typical host organisations, the expected benefits, considerations for faculty staff and students, information on the FMLM Medical Student Electives Scheme and case studies from students who have undertaken such an elective.
The assessment of leadership development
This consensus statement derives from a workshop convened by the Faculty of Medical Leadership and Management in October 2019. The event brought together representatives from universities from across the UK together with practice educators, leadership developers, and representatives from the General Medical Council, business schools, other healthcare professions and the wider public sector; we acknowledge their significant input to this statement. A version of the statement was also published in BMJ Leader in 2020. FMLM members can access the journal as part of their membership.
Edward Jenner programme
Produced by the NHS Leadership Academy, the Edward Jenner programme is a free, online course. It is an ideal first port of call for students who are looking to build a strong foundation of leadership skills that will help enhance their confidence and competence. It is ideal for anyone who is new to leadership and wants to explore what it means. The Edward Jenner programme also acts as a preliminary learning programme for newly qualified nursing and clinical staff and provides a great introduction to leadership, management and self- reflection for all working in healthcare. The programme contains two modules (Launch and Foundations) and takes around 40 hours to complete. On completion of the programme, and following submission of a short written piece, participants are awarded an NHS Leadership Academy award in Leadership Foundations.
The Tomorrow's Leaders, Today working group
In July 2017, FMLM hosted an event for a range of stakeholders - medical students, educators, doctors, healthcare leaders and regulators - to find solutions for increasing leadership training for undergraduates. Shortly afterwards, a working group was set up to act on those suggestions, co-chaired by Tim Swanwick (Honorary Director for Education, FMLM) and Steve Jones (Medical Schools Council representative).
The group has produced a list of 10 key priorities, some of which are outlined below. If you would like to know more about the work of the group, or are keen to be involved, please email tim.swanwick [at] hee.nhs.uk (Tim Swanwick) for more information.
Development of an indicative undergraduate curriculum for leadership and management
This indicative undergraduate curriculum was launched on 5 October 2018, as detailed above, and outlines the leadership and management competencies expected of new medical graduates along with suggested activities and assessments to help achieve those competencies.
Formation of a national network of undergraduate faculty interested in leadership development
The group asked all medical schools to identify the member of faculty in charge of leadership development for undergraduates. This national network are then being invited to face-to-face meetings to share ideas and best practice, and will receive regular communications from the working group outlining support and guidance FMLM can provide.
Guidance for Intercalated BSc's and Student Selected Components with a leadership focus
Stretch activities, like intercalated BSc's, provide an opportunity for undergraduates to further their interests and build career prospects. Unfortunately, such opportunities are few and far between. The working group will therefore be providing guidance for medical schools on how they can introduce stretch activites to their undergraduate offer.
Delivering - and promoting the benfits of - leadership focused student electives
FMLM recently launched an elective scheme, allowing those with an interest in leadership to learn within organisations such as NHS Improvement, NICE, Public Health England and the GMC. The working group aims to support medical schools to provide similar opportunities on a local level.