Clinical Fellow Alumni Programme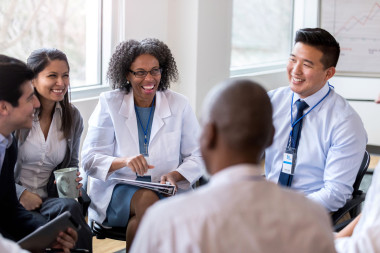 FMLM run a portfolio of prestigious, national clinical fellow schemes on behalf of NHS England, for developing clinical leaders:
National Medical Director's Clinical Fellow Scheme
Chief Pharmaceutical Officer's Clinical Fellow Scheme
Chief Dental Officer's Clinical Fellow Scheme
Chief Sustainability Officer's Clinical Fellow Scheme
NHS Regional Clinical Leadership Fellow Scheme
Chief Scientific Officer's Clinical Fellow Scheme
Chief Nursing Officer's Senior Nurse Clinical Fellow Scheme
Over 500 exceptional clinicians have passed through the schemes since 2011
Alumni have the unique experience of having worked at the centre of leading national healthcare organisations, having led on a range of projects contributing to national priorities. Alumni have a range of enhanced skills including leadership and management, policy development, project management and research as well as extensive professional networks.
What does the programme offer
The programme forms part of a strategic partnership between FMLM and NHS England to increase clinical leadership capability across healthcare. It aims to create a formal network for fellows to stay connected, while providing access to ongoing leadership development opportunities and creating a multiprofessional talent pool for healthcare systems to engage with.
How can clinical fellow alumni be helpful to the wider healthcare system?
Alumni are a valuable pool of diverse, highly skilled individuals with diverse skill sets, experiences, and expertise for healthcare providers and organisation to draw on.
Organisations may choose to engage the skills of alumni in a variety of ways including:
Short or mid-term leadership roles
Projects and research
Special interest groups or consultations
Find out more about our alumni, their backgrounds, leadership interest and areas of expertise through the Alumni Directory available on this page.
To find out more about engaging alumni in your work or organisation, navigate to the Alumni Placements section available on this page or email alumni [at] fmlm.ac.uk.
Find out more about the 500+ alumni that have passed through clinical fellow schemes since 2011.
Find out more about engaging alumni for roles, projects and other opportunities.