An inspirational year underscored by a powerful FMLM Keogh Lecture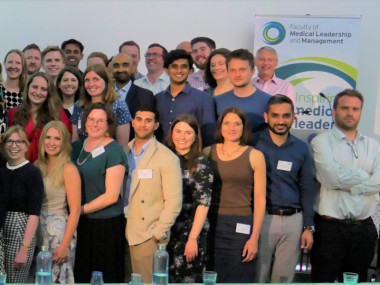 National Medical Director's Clinical Fellow at NHS England and Improvement and FMLM Douglas Fellow 2021/22
On Tuesday 12 July more than 90 national clinical and regional clinical leadership fellows, who have been placed with a variety of host organisations for the past 10 months, attended the annual graduation event to celebrate our individual and collective achievements on the schemes.
We were joined by 20 host representatives, as well as scheme leads and alumni of the National Medical Director's, Chief Dental Officer's, Chief Pharmaceutical Officer's, Chief Scientific Officer's, Chief Sustainability Officer's, and NHS England's Regional schemes. Clinical fellows in the early stages of the recently established Chief Nursing Officer for England's Senior Nurse Scheme, will have the opportunity to celebrate when their scheme completes later this year.
This annual event demonstrates the commitment of FMLM to promote leadership development opportunities in all healthcare professions. The rapid growth of the schemes is also testament to the value placed in them by the alumni that have graduated each year, and to the hosts who continue with their support and commitment to leadership development for clinicians and healthcare professionals.
The event saw Dr Dal Hothi, FMLM Fellow and Associate for Leadership Development, host a lively, interactive panel discussion with Richard Cattell, Deputy Chief Pharmaceutical Officer, Jason Wong, Deputy Chief Dental Officer, Dr Nick Watts, Chief Sustainability Officer, Angela Knight Jackson, Deputy Director for Nursing Professional Development, and Celia Ingham Clark, Medical Director for Professional Leadership and Medical Workforce at NHS England. The panel members each explained how much they valued the contributions of the clinical fellows assigned to their organisations, particularly their insights from clinical practice to help drive decision-making.
For me, this discussion made me think about what I want to prioritise as a leader. As ever, Dr Nick Watts provided inspiration on the responsibilities of all NHS staff to contribute to the success of achieving NHS NetZero by 2045; his message was clear, this is an ambitious but achievable target but to achieve it, we must all take actions now. While agreeing how easy it is to dream up long-term targets to deal with climate change, he asked, as leaders, "what you are you going to do at 9am tomorrow, and the day after, and the day after that?"
The overarching theme from the panel members, was to find your passion, stick to your values, be relentless and never wait for change to happen on its own! And it would seem to me these leaders certainly live by their own advice.
We later heard from four clinical fellow alumni: Dr Grant Hill-Cawthorne, Rahul Singal, Dr Alex Chiu, Dr Helen Grote, and Nishma Sharma, at various stages in their careers post-clinical fellowship, but each reporting lasting benefits and citing the scheme as having shaped their professional careers, and leadership development.
Like me, many of the clinical fellows in my cohort are heading back to clinical practice, but there are those who are about to embark on new roles away from clinical practice. It was inspiring and reassuring in equal measure that those clinical fellow alumni – regardless of the paths they took post-clinical fellowship – have found exciting ways to use the skills they developed to influence and drive change across healthcare for the wider benefit of patients.
Following the graduation event, as has become the tradition, we were then treated to the annual FMLM Keogh Lecture, given this year by Dr Bola Owolabi, GP and Director of Health Inequalities at NHS England and NHS Improvement.
During this year, I have had the privilege of listening to Bola on a several occasions. She has inspired me to think more about health inequity in the UK, and most importantly what I can do as an individual doctor to tackle this issue. Over the past 18 months, Bola has thrown herself into her role, seeking to understand from colleagues not whether there is a problem, or even why is there a problem, but why do these problems persist, what are the barriers to reducing health inequity and where should we start?
From the outset, Bola framed her lecture with the message that the most powerful legacy we can leave, after the pandemic, is to reduce health inequalities. She talked of the Core20PLUS5 approach, which aims to support the reduction of health inequalities by defining target population cohorts and five evidence-based clinical areas to focus on. The great thing about listening to Bola speak, is her passion, her advocacy, and her ability to bring real stories into her narrative. As a clinician going back to the junior rota, it is easy to believe that I could be powerless in making a difference, but this empowering clinical fellowship and the inspirational talks I have heard from Bola and others remind me that it is the responsibility of all of us to act against health inequity.
The graduation event and FMLM Keogh Lecture for 2022 were brought to a close by Professor Sir Stephen Powis, who thanked Bola for her lecture, and the clinical fellow scheme hosts, FMLM, and clinical fellows themselves for another successful year.
I take this opportunity to thank my colleagues at FMLM, the national directors, chief officers and scheme sponsors, the host organisations and every clinical fellow past and present for contributing towards these ever-successful schemes, and for an incredible year and life changing opportunity for me, personally.
A recording of the FMLM Keogh Lecture 2022 by Dr Bola Owolabi will be available to members on the FMLM website, shortly.