CPD and Accreditation for Providers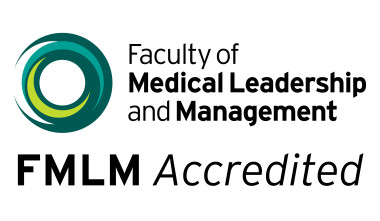 FMLM is an accrediting body for UK based education and training programmes that meet the FMLM Leadership and management standards for medical professionals.
Accreditation provides FMLM members, doctors, dentists, healthcare professionals and healthcare organisations with assurance that a programme has been independently assessed and judged as meeting these important national standards.
Accredit your programmes with FMLM
Accreditation through FMLM will offer providers with a number of benefits, including:
Quality assurance and recognition that the programme meets national standards for medical/clinical leadership and management.
Use of the FMLM accreditation marque 'Accredited by the Faculty of Medical Leadership and Management' for marketing and course materials for a period of three years.
CPD credits against teaching content.
Listing on the FMLM website as an accredited programme and accessible to FMLM members, doctors and healthcare professionals and healthcare organisations.
One free promotional article in FMLM's popular weekly e-newsletter, signposting the programme to 10,000+ subscribers.
Up to 20% discount on additional advertising packages aimed at our highly engaged audience.
FMLM accredits a range of UK based leadership and management programmes available to doctors and dentists at all levels, including:
Conferences and events
Short and long term courses
Academic, award bearing programmes (eg undergraduate medical school curricula and postgraduate certificates).
FMLM will consider applications with a range of delivery formats including face-to-face, via blended learning or distance learning. Please note that FMLM do not accredit clinical programmes.
FMLM also accredit undergraduate medical programmes where the Medical leadership and management indicative undergraduate curriculum has been embedded within a programme. Medical Schools can find out more about curriculum accreditation here.
Accreditation can be attained for three years once the programme meets the requisite criteria and standards. An annual assessment will be undertaken to ensure the programme continues to meet these criteria and standards. Accreditation status will be assessed on a case-by-case basis and for some instances programmes may be offered limited or conditional accreditation.
Application process
Applications for accreditation should be made online through this page. Applicants must log in using their FMLM account or create an account to access the application portal. Applicants can save their applications and submit them at a later date.
For full application guidance and terms and conditions, please download a copy of the FMLM CPD and Accreditation Policy available on this page.
Applications are reviewed by an assessment panel constituted of independent experts from education, academia, healthcare and CPD providers. The assessment panel meets four times a year.
Fee
The accreditation fee, per application, is as follows:
Commercial organisations - £1,200 plus VAT
Charity/not for profit organisations - £953 plus VAT
There are no additional annual costs, the fee covers accreditation for three years. Discounts are available for multi-programme applications. Fees are non-refundable regardless of assessment outcome.
The CPD points fee, per application, is as follows:
Commercial organisations - £400 plus VAT
Charity/not for profit organisations - £75 plus VAT
Need advice?
Should you want to discuss your accreditation needs, please contact a member of the team at accreditation [at] fmlm.ac.uk or call 020 8051 2060.
Ready to apply?
Log in or create an account to submit an application.
Applications for CPD Credits can be submitted at any time.
The general turnaround time for accrediting applications from date of submission is 3-4 months.
Find out more about training programmes that have been accredited by FMLM