Testimonials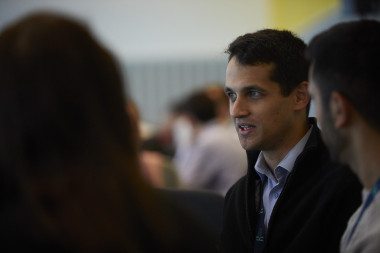 FMLM Applied have worked successfully with many healthcare organisations, helping to educate and galvanise the leadership within those organisations, as well as nurturing talent to ensure long term success. The following are a series of testimonials from clients of FMLM Applied such as Andy Haynes, Executive Medical Director at Sherwood Forest Hospitals Trust, all of whom have experienced the real benefit that FMLM Applied's management and clinical leadership expertise can bring.
"I joined Sherwood Forest in mid-2014 when the trust has recently been placed in Special Measures and rated Inadequate by the CQC. Medical engagement was in a poor state with no structure for medical leadership, talent spotting or development. As part of the response to this, FMLM delivered a programme of modules over 2015 to a core of medical leaders. These were interactive workshops which created a working compact within the group for actions and activities which built trust, open communication, an understanding of others issues and a "delivery mindset". This was not a PowerPoint Masterclass but based on real problems, practical tools and solutions. This group went on to develop new divisional and governance structures, major service improvements and extend the core of medical leadership by influencing others. The trust was removed from Special Measures in 2016, has sustained top national performance in a range of quality and safety indicators and achieved a significant improvement in engagement in the national Staff Survey. The FMLM programme provided the anchor and base from which this medical engagement began and was a vital tool for me as Medical Director."
- Andy Haynes, Executive Medical Director, Sherwood Forest Hospitals Trust
"I have fire in my belly for the first time in a long time. I was despondent before this course and now I know I can and will make a difference… I may be a small cog in the big wheel but I have been passionate about social prescribing so I am going to get out there and sell it - it will both benefit GP's and patients"
- Jacky Glover, Practice Manager, Surrey Heartlands CCG
"At a time when our Trust had been put into special measures and medical engagement was at an all-time low, the FMLM were commissioned to deliver a series of seminars to the medical leadership team. The first sessions were cathartic, helping us come to terms with the outcome of the CQC visit. Then slowly and steadily over several sessions they built us up, both individually and as a team. Useful background knowledge for medical leaders and 'management techniques' (such as dealing with difficult colleagues) were included in every session but there was also time for us to get to know each other better and understand our strengths and weaknesses. By the end the atmosphere in the room was completely different. We were more united as a team and we felt empowered to tackle the many problems we faced. Medical engagement in the Trust has gone from the worst in the country to one of the best in 18 months! I can thoroughly recommend the FMLM approach."
- David Walker, Medical Director, East Sussex Health Care NHS Trust
If you are interested in discussing what an FMLM Applied programme would entail, please fill out this short form and we will get in touch.