A New Partnership with Aqua and FMLM Applied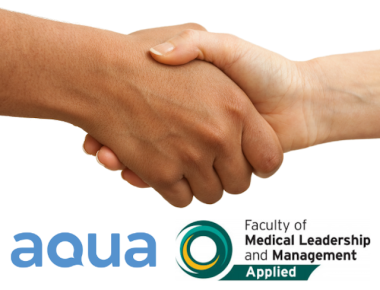 We are thrilled to announce a
new partnership between two leading organisations dedicated to improving patient care.
FMLM Applied, the leadership development arm of the Faculty of Medical Leadership and Management (FMLM) and leading improvement agency Aqua will bring together their strengths in leadership development and quality improvement to support healthcare leaders and practitioners.
The partnership aims to accelerate the benefits provided to healthcare leaders, for the benefit of patients and populations in the UK and beyond.
As a combined force, FMLM and Aqua will work with leaders at team, organisation and system levels to improve their leadership and improvement capabilities through individual intervention, team development, and organisational and system excellence.
We believe that our shared improvement and leadership development expertise can be of considerable benefit to populations in the UK and globally, generating positive outcomes for health and care in the regions where we work. Together we will be able to serve more clients and increase our range of interventions to improve patient care and performance, including in the CQC's Well-Led domain of its inspections.
Kirsten Armit, Director of Research and Director of FMLM Applied, said: "This exciting partnership between FMLM Applied and Aqua combines significant complementary expertise to support and develop healthcare leaders at all levels to navigate the complexities of the modern health and care environment"
Sue Holden, Chief Executive of Aqua, said: "I am thrilled by the opportunities a partnership between FMLM Applied and Aqua will bring. The work we perform together promises to make a real difference to the populations of the regions that we work within, and I am confident that we will better enable leaders to implement improvement and transformation, at all levels."
As a partnership, we will engage in a wide range of activities, with the aim of delivering better health outcomes and experiences for populations in the UK and globally.
We will work together on shared commissions around leadership development, safety and quality improvement. This will include the promotion of the importance of medical and clinical leadership development, and the central role of leadership in improvement to achieve large-scale change. The partnership will have an emphasis on co-design with our customers, to ensure we deliver highly relevant programmes of work.
About the partners:
FMLM was established in 2011 by the UK's medical royal colleges and faculties, with endorsement from the Academy of Medical Royal Colleges (AoMRC). FMLM Applied offers leadership and management expertise and hands-on support through an extensive network of high-profile, experienced medical leaders and leadership development professionals.
Established in 2010, Aqua is an improvement agency with roots in the NHS. They provide quality improvement expertise, specialist learning and leadership development to members and customers. Aqua works across the NHS, care providers and local authorities to identify, refine and embed sustainable strategies for high-quality care and regulatory excellence.