Induction event marks the beginning of the 13th year of FMLM Clinical Fellow Schemes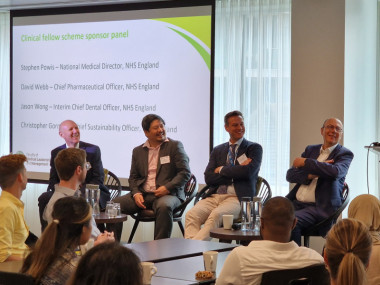 On Friday 8 September 2023, FMLM was delighted to host the Clinical Fellow Schemes Induction for 2023/24.
The event marked the beginning of the 13th year that FMLM manages clinical fellow schemes in partnership with NHS England and brought together clinical fellows from across the FMLM portfolio of national clinical fellow schemes, including colleagues from HEIW counterpart schemes.
The in-person induction event served as an opportunity for the incoming clinical fellows to meet their scheme sponsors, the FMLM team, and network with their multi-profession colleugues from across the schemes.
Clinical fellows heard directly from scheme sponsors:
The sponsors panel outlined their expectations for the year and the importance of the national schemes.
In addtion, a panel of recently graduated clinical fellow scheme alumni discussed their experiences and offered valuable advice to the new clinical fellows. Helpful tips and guidance included navigating the various competing demands of their new teams and being effective within the systems/organisations they will be working across. The event was a great success in-person, and with significant interest outside of the room with over 14,000 impressions on Twitter and many posts on other social media platforms.
FMLM and NHS England wishes the incoming cohort of clinical fellows the very best in their year ahead.
FMLM would like to thank all partcipatiing host organisations that provide clinical fellow placements and opportunities, without whom, the schemes would simply not exist.
Find out more if your organisation is interested in hosting a clinical fellow for 2024/25