Plans laid for Leaders in Healthcare 2021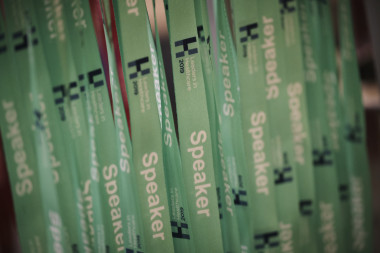 The Faculty of Medical Leadership and Management and the BMJ have announced plans for the 2021 Leaders in Healthcare conference that aim to mix the best of the traditional in-person annual meet and the opportunities provided by a virtual event.
Leaders in Healthcare 2020 saw over 1000 people from more than 40 countries gather online to discuss medical leadership, learn from each other, and crucially support the enormous effort being made by healthcare over the course of Covid-19. Over four days, many pressing issues were discussed, but importantly a space was created for healthcare professionals to reflect and rejuvenate at a trying time for many.
In feedback following the conference aimed at informing the next gathering, a common theme emerged around taking the flexibility of virtual spaces, and combining them with the best that an in-person gathering can provide, including face-to-face teaching and networking opportunities.
The 2021 Leaders in Healthcare conference will therefore see two days of in-person teaching and discussion at the Barbican in central London, followed by two days of an online conference.
All four days will offer networking opportunities and the space to share stories and learning from the past year. Due to pandemic pressures, there have been significant professional and personal challenges for leaders at all levels, and the programme for 2021 will recognise this by providing space to share experience, workshops focussing on self and team wellbeing, and inspiring speakers to rejuvenate clinicians and others to lead in the post pandemic world.
International interest in the conference has grown year on year, bolstered last year by being held online, and this year's topics and sessions will be relevant to leaders across the globe.
The FMLM and BMJ conference team are making a specific call for researchers to submit speaker proposals for this year's conference. This follows last year's successful research stream, which the conference team are aiming to build upon.
In addition, a call for posters will launch on Monday 10 May, with accepted posters all being entered into the annual Leaders in Healthcare poster competition, with winners receiving one year's free FMLM membership. This closes on Friday 28 May.
Dr Paul Evans, FMLM Medical Director, said:
"We are very excited about being able to meet in person and online and look forward to sharing leadership best practice and the many lessons learned over the past year with colleagues at all career stages. In particular, I welcome the opportunity to meet new colleagues face-to-face, which has always been one of the great strengths of Leaders in Healthcare, and still allow colleagues from across the UK and the world to join us virtually, without the need to travel or take significant leave from work. We very much look forward to welcoming you in November."
The Leaders in Healthcare conference is due to take place from 8 - 11 November 2021.