Supporting and developing a leading resource for the future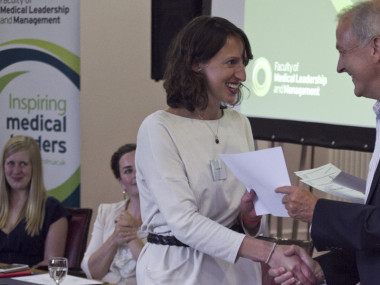 A formal network will be established this month for the alumni of FMLM-run national clinical fellow schemes, to develop and create individual opportunities and provide a talent pool for the healthcare system. This will form part of a strategic partnership with NHS England and NHS Improvement to increase multi-professional clinical leadership capacity across healthcare.
Dr Emma Roche and Dr Amy Dehn Lunn, National Medical Director's Clinical Fellows 2019/20, discuss the new level of support for clinical fellow alumni.
The FMLM-managed national clinical fellow schemes offer a career-shaping experience for healthcare professionals early in their leadership journey. Being embedded in a national healthcare organisation, as well as exposure to the wider healthcare landscape offers an experience like no other in UK medical, pharmaceutical or dental training. We had the privilege of starting our fellowships in 2019 and have worked together as co-chairs with FMLM since, to develop the alumni scheme for clinical fellows.
The clinical fellowship gave us the opportunity to understand and shape national policy, meet like-minded colleagues and develop our healthcare values. While Emma was based in the GMC Strategy Team, Amy, whose fellowship has continued this year, has been working with the primary care team at NHS England and NHS Improvement. Our fellowship in 2019/20 was different to most, due to the COVID-19 pandemic, and it certainly stretched us! We could not have had a better example of a VUCA situation.
There were some great examples of clinical fellows' achievements during that time, from input to developing the NHS Long Term Plan and supporting the NHS and PHE response to COVID-19, to an impressive array of clinical entrepreneurial projects and activity. Working together across different disciplines brought huge strength to our cohort, which meant we learnt a great deal from one another, so we welcome the expansion of clinical fellow schemes to include a wider range of clinicians.
"My experience of the National Medical Director's Clinical Fellow Scheme was inspiring and a truly beneficial year that will shape my career for years to come.
"As I move past my clinical training and become a qualified General Practitioner, I am grateful for the way FMLM has nurtured my confidence and supported me to take my next steps as a future healthcare leader."
Dr Heather MacFarlane, National Medical Director's Clinical Fellow 2019/20
It is crucial to build on the experience of our clinical fellowships through ongoing learning and development offered by the alumni scheme. The NHS Long Term Plan highlights the need for a more systematic approach to nurturing the next generation of leaders. With healthcare ever more complex and challenged, this is more important than ever. As the clinical fellow schemes have grown over the past 10 years, there is much to be gained by engaging with all cohorts of fellows across different disciplines, many of whom continue to undertake formal and informal leadership roles at various stages of their careers.
The alumni scheme will build on the experience and learning gained during the clinical fellowships to develop future healthcare leaders, connect a formal network of alumni from different professional backgrounds and cohorts, and provide access to ongoing leadership development opportunities. The scheme will also provide a resource of expertise for healthcare systems to draw on to support their work. We are hugely excited to bring the alumni together for this new journey.
Over the past 10 years more than 300 emerging clinical leaders have participated in an FMLM-run national clinical fellow scheme. All are invited to see the individual and collective benefits of being part of the new alumni scheme.