Supporting the next generation of emerging leaders
By Helen Cliffe and Jemma Batte
An inspirational event for the National Medical Director's Clinical Fellows and Alumni was hosted by Bupa on 10 May.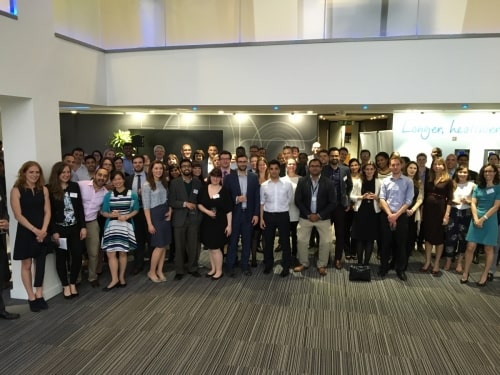 Supported by former Bupa CEO Stuart Fletcher and the Bupa UK clinical team, we welcomed more than 50 guests over drinks, canapés and informal talks at Bupa House. Attendees included current, former and newly appointed clinical fellows and representatives from host organisations such as Macmillan, NHS England, CQC, NHS Improvement, NICE, Public Health England and FMLM.
Attendees heard from several alumni, including Dr Avi Mehra (Bupa Global), Dr Nina Wilson (NHS GP and CCG clinical lead), Dr Felicity Taylor (NHS paediatric A&E) and Dr Tom Duncan (NHS anaesthetist). Reflecting on the value of their fellowships, they explained how they have used the leadership and management skills they developed on the scheme to undertake further medical leadership roles in their careers.
It was truly inspirational to hear of their achievements in NHS acute trusts, UK charities and in global healthcare. It was also fantastic to host such a brilliant range of current and aspiring medical leaders at Bupa, which has always been a strong supporter of the National Medical Director's Clinical Fellow Scheme for growing the healthcare leaders of the future.
Attending the event, Dr Nick Ibery, Chair of the Alumni Committee and clinical fellow on the very first year of the scheme, said: "We are looking forward to future exciting engagements and events with the alumni and the host organisations, to continue to share experiences, skills and knowledge in healthcare leadership."