Building and enabling medical leadership career pathways – the story
For the last three years at FMLM, we have worked to build a leadership development framework for GPs, something we've never had before. We think this model can be used in primary care across the UK. In fact, it probably applies to any doctor who recognises that leadership is about enabling yourself and others, resulting in better care for patients and more sustainable and rewarding careers for doctors.
Doctors are well trained in their clinical field, but traditionally the leadership and management side of our working lives has received little attention or support. FMLM realises that this aspect of medicine needs to be professionalised, given the climate we are working in today.
It's important to stress that we are talking about leadership going hand-in-hand with clinical practice. We are not about pulling doctors away from the day job. We view leadership within the context of working with patients, within teams and across the wider communities and systems within which doctors work.
We hope that the 'evolving' career map we developed over the last three years, through interactive workshops with a range of stakeholders, will support GPs navigate the leadership environment at different stages in their working lives.
To bring this to life a little, we've identified three typical GP characters that you might recognise in order to show you how relevant this map is at any stage in your career.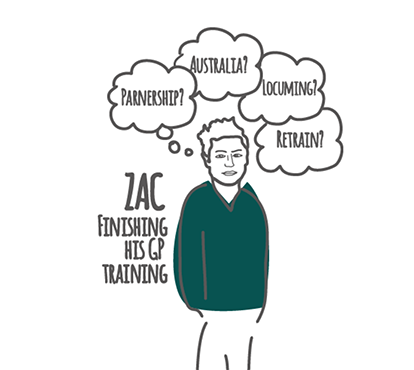 Let's start with Zac. He's just finishing his GP training and trying to work out what he wants to do next.
Does he want to go for a partnership? Should he go off to Australia? Should he take the money as a locum and avoid too much responsibility? Or given the uncertain climate in general practice, does he need to completely re-train in something else? Ideally he wants to be a GP but the reality seems very daunting and uncertain at the moment. Plus, he's overwhelmed by the requirements for completing his e-portfolio while coming to terms with the idea that he'll soon be a grown-up GP, no longer under the wing of his mothering trainer.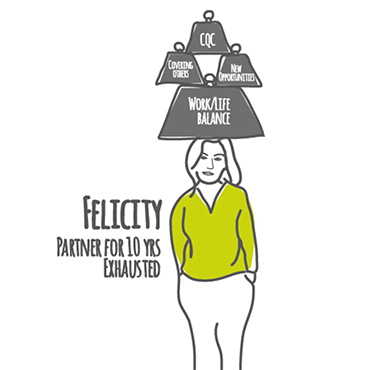 Next we have an exhausted partner called Felicity.
She's been a partner for ten years. It was her training practice and she remembers the time when her trainer took her out for leisurely lunches and she could get home at a reasonable time to go to the gym before meeting up with friends for the evening.
However, now she's always the first to drop off her children at the local school's breakfast club and the childminder puts them to bed on the days she works. The senior partner has just announced his retirement and the practice manager wants her to take over his commissioning role within the practice. Another partner is off on maternity leave and CQC have just announced they are coming to inspect the practice in two weeks' time, so she's had to cancel her week off with the children at half-term.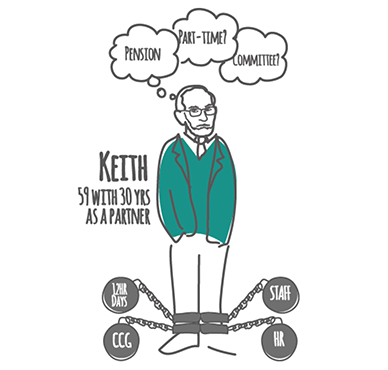 Finally I'd like to introduce Keith.
Keith is a GP in Wales. He's 59, so looking forward to collecting his NHS pension next year. He has been a partner in his practice for 30 years and when he started, he worked one in two weekends and his patients were his responsibility 24 hours a day. Despite that, the job was quite manageable and he was able to tend to his extensive garden. Now he's fed up with 12-hour days.
The practice can't recruit enough doctors and the ones they've got only want to work part-time. As senior partner, his inbox is continually jammed with missives from the Health Board and he's got another appraisal to prepare for, which is a complete waste of time, in his opinion. He's wondering whether to jack it all in, take his pension and then come back as a part-time partner, letting the more junior partners see what hard work is really like! Or perhaps he should get a cushy job on a committee or two, although to be honest, he's so fed up with the NHS at the moment that the only reason he doesn't think he can retire completely is because he'd get under his wife's feet.
Now we have our three characters, let's introduce the map.