Department of Health and Social Care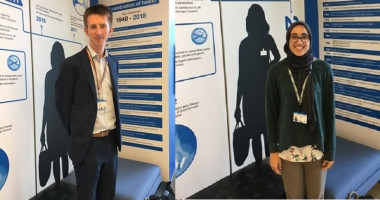 By
James Nicholson and Salma Khan
Experience and Reflections
In April 2019, we had the opportunity to take part in the Faculty of Medical Leadership and Managements' Student Elective Scheme, spending 3 weeks at the department in the Workforce Strategy team. We spent our time shadowing meetings, engaging in discussions with staff and getting involved in some project work, under the mentorship of clinical fellow, Dr Adam Januszewski, and NHS Workforce Team Leader, Mr Joseph Smith.
We were able to gain insight into areas including:
nursing recruitment
EU Exit preparation
workforce engagement – through the online 'Talk Health and Care' platform
junior doctor contracts
NHS pay and pensions
Having little experience of the Civil Service, health policy or government, it's been extremely eye-opening to witness the dynamics of the office, leadership and management styles and how decisions travel from an idea to legislation. It was a real privilege to meet dedicated civil servants who had worked behind the scenes on familiar policies, and people at the forefront of various negotiations and policy implementation. It was comforting to see the insight they had into the challenges faced delivering frontline services, while we previously had little insight into their work. We saw that there are people working tirelessly at all levels to support and improve the NHS.
I have realised how useful an understanding of the wider system is if you want to bring about change in the NHS, even at a local level, and I'm keen to dispel the popular myth that medical leadership and clinical practice are mutually exclusive! Medicine trains us to deal with 'complicated problems': considering biological, patient and ethical information to make evidence-based decisions. This placement introduced me to the concept of 'complex problems'. These occur when the lack of certainty and agreement is so great that evidence alone cannot indicate the best course of action, calling for an evidence-informed approach. Doctors have a good reputation for their ability to manage uncertainty. However, I think the understanding of 'narrative' that I started to develop at DHSC will help me contribute in future to complex decisions about health policy and system design.
Working in different national organisations
We had 5 organised sessions with the other elective students, during which we were able to compare our experiences working in different national organisations. This included a day at the General Medical Council, where we met Dame Clare Marx, who talked to us about her own leadership journey. The session on 'local politics and persuasion in NHS organisations' helped us understand the relationships between government, arm's length bodies, commissioners, providers and councils.
We developed plans to enact change in our local organisations, considering the best approach to engage with stakeholders and identify 'peripheral gains'. This gave us more knowledge on how to navigate the system and bring about change, whether as medical students or junior doctors. Overall, we have learned a great deal about how NHS organisations are set up – how money flows and how knowledge of the wider NHS system is instrumental in allowing us to influence change at a local and national level. We would like to thank the whole team at DHSC for being so welcoming and for sharing with us their wealth of experience.