Leadership: Junior Doctor Forum - Leeds Children's Hospital (LCH)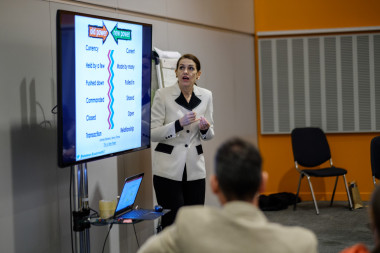 One Junior Doctor Body (JDB) branch is the Leeds Children's Hospital Junior Doctor Forum (LCH JDF), which was created in response to poor attrition rates and GMC survey results in paediatrics. Approximately 100 junior doctors work at Leeds Children's Hospital and all are invited to partake in the forum at the start of each rotation. The LCH JDF has a steering committee of 15 – 20 trainees across all training grades and paediatric sub-specialties that meet monthly. However, trainees who wish to attend on an ad hoc basis are also welcomed.
LTHT's Chief Executive and Paediatric Clinical Directors supported the initiative and it's success in improving trainee engagement, morale and leadership experience has led to the development of a Chief Paediatric Registrar post, which will be piloted in August 2018, mirroring the RCP Chief Medical Registrar post.
LCH JDF consists of 4 working groups with 3 – 12 trainees in each, with each working group having its own 'lead trainee':
Morale & Retention
Teaching & Training
Workforce Planning
MRCPCH Examinations
College tutors attend the LCH JDF meetings every alternate month, and the key outputs of each LCH JDF meeting are discussed regularly with Children's Hospital General Manager and Associate Director to maintain good relations between trainees and the senior managers.
Recent achievements arising from the JDB and LCH JDF:
Medical education and training
Funded Myers Briggs training sessions for all JDB members to aid leadership development
Dedicated MRCPCH revision course with 100% of participating trainees stating that they felt more valued by the trust as a result
Established pre-defined learning plans resulting in improved clinic attendance and e-portfolio engagement
Junior Doctor App with clinical guidelines and Trust policies
Monthly Junior Doctor educational newsletter - "Doctor's Digest".
Quality improvement
In-house QI training sessions for staff
Numerous projects improving patient flow and waste reduction.
Junior doctor morale and engagement
Dedicated "Improving Junior Doctors Working Lives" working group attended by Post-graduate Directors of Medical Education, General Medical Education Manager, Professional Support Manager as well as junior doctor representation (the chair of the JDB and LCH JDF are frequently in attendance)
"Walk in my shoes" initiative encouraging junior doctors to shadow senior medical managers in order to gain better insight into their roles
LTHT "Junior Doctors Awards" presented to Junior Doctors by the CMO and Chief Executive
In-house Mentoring Scheme for Paediatric Trainees (M-PATHY)
Trainee representation on College Tutor interview panels to provide trainees with ownership of their training
Development of new Trust policies to improve work-life balance and flexibility for junior doctors
Improved Doctors' Mess Facilities including a specific Children's Hospital Doctors Mess.
Authored by Mr Stuart Haines, General Manager for Medical Education; Dr Rammina Yassaie, Clinical Leadership Fellow and ST3 paediatric trainee, Leeds Teaching Hospital NHS Trust