Resilience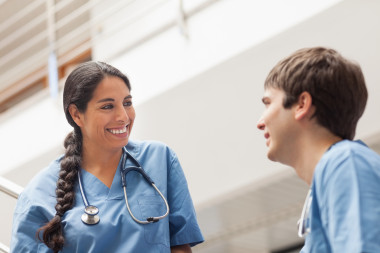 This article is part of Leadership Online.
Resilience features as a key part of FMLM's Leadership and management standards for medical professionals, specifically these three standards in the first section on 'Self':
Personal resilience, drive and energy
Remains calm and objective in situations of pressure or conflict.
Sustains personal levels of energy and remains enthusiastic and optimistic in the face of setbacks.
Manages own time effectively, and is trusted by others to deliver commitments and promises.
Resilience is increasingly important in this fast-changing world when VUCA (volatility, uncertainty, complexity, ambiguity) is affecting us all – see the FMLM eNews editorials by Mr Peter Lees in July 2015 and April 2016.
What is resilience?
Resilience, according to Vanessa King, means the ability to bounce back from difficulties or not bending or breaking under pressure (it comes from the Latin verb resilire meaning to jump, leap or spring back). It's about the ability to successfully cope with, adapt to or deal with adversities and persevere in the face of challenges.
The 2017 FMLM Conference in Scotland examined the promotion of personal, managerial and organisational resilience - see Resilience: not just a brave face (BMJ Leader, Vol 1 issue 3). The Oxford English Dictionary defines resilience as "…the capacity to recover quickly from difficulties; toughness." In the NHS, we understand resilience in terms of strengths in coping, flexibility and adaptability. Managerial resilience relies on the ability to ask the right questions and not being afraid to do so. The behaviour of individuals can impact on the resilience of others, highlighting the importance of compassionate leadership. In the ever changing clinical training environment, respect, support and mentorship are essential.
How to become more resilient
According to Vanessa King in Chapter 8 of her book 10 Keys to Happier Living, being more resilient "…helps us to manage stress better, bounce back from difficulties faster, believe things can and will get better, and that there are things we can do to make a difference". She draws from the work of Dennis Charney and Steven Southwick who in their book Resilience: The Science of Mastering Life's Greatest Challenges have identified the most important ingredients of resilience; areas where we can take action to learn, feel and be stronger. This is usefully summarised in this article on 10 Steps to Building your Resilience and in a slide presentation. The 10 elements are:
Keep a positive attitude. Use optimism and humour - the use of positive emotions (e.g. I look for something good or positive in negative situations).
Reframe your stressful thoughts. Thinking resiliently - the ability to tune into our thoughts, assess their accuracy and reframe or replace them with more accurate, helpful or positive ones (e.g. is there a more helpful way of looking at this situation?)
Develop your moral compass. Have a sense of values, purpose and meaning (e.g. I keep focused on what's most important in life)
Find a resilient role model. Imitation is a powerful mode of learning. "Our role models are so important in our lives that their values can influence our own values through psychological imprinting. Whether they're world leaders or friendly neighbours, find role models that you can look up to in times of stress."
Face your fears. Keep learning and challenging yourself - draw on strength developed from past stressful experiences, so build your resilience by challenging yourself to try new things, experiment and learn (e.g. I can find ways around obstacles to reach my goals).
Develop active coping skills. Using active coping strategies - where we face our difficulties and focus on what we are able to do or control (e.g. I make a plan of action when confronted with a problem)
Establish and nurture a supportive social network. Nurture relationships and help others - in tough situations it's usually better together. Actively seek support from others and bond with a group (e.g. I know who I can turn to for help)
Prioritise your physical well-being. Look after your physical well-being - physical activity can be an instant stress-reliever and also builds our cognitive capacities (e.g. I get out for a walk to clear my head)
Train your brain. "Changing the way your brain works may seem like a daunting task, but with a little self-discipline it can be accomplished through regular and rigorous training." The authors suggest that working to build emotional intelligence, moral integrity, and physical endurance can all help deflect stressors.
Play to your strengths. Know, use, and actively develop your strengths - helping to build your confidence, find different ways round problems and appreciate and draw on the strengths of others (e.g. using what I am good at gives me confidence to tackle difficulties).
Roy Lilley (in his NHSManager eNewsletter of 5 March 2018) summarises five ingredients of resilience:
Have a strong sense of purpose
Understand your emotions
Have the ability to see from a helicopter view
Are fit and healthy (take holidays, eat well, live life to the full, find things to enjoy)
Know other resilient people.
Daniel Goleman in his Mind Fitness video says that resilience is measured scientifically by how long it takes you to get back to your baseline (that pleasant mood you were in before the thing that flipped you out) - the shorter it is, the more resilient you are.
Resilience (HBR Emotional Intelligence Series)
This very useful book is a collection of articles published by the Harvard Business Review, and it includes:
'How Resilience Works: Three traits of those who bounce back' by Diane Coutu
'Resilience for the Rest of Us: Train your brain' by Daniel Goleman
'How to Evaluate, Manage, and Strengthen Your Resilience: A methodical approach' by David Kopans
'Find the Coaching in Criticism: Turn tough feedback into growth' by Sheila Heen and Douglas Stone
'Firing Back: How Great Leaders Rebound After Career Disasters: Manage big professional setbacks' by Jeffrey A. Sonnenfeld and Andrew J. Ward
'Resilience Is About How You Recharge, Not How You Endure: It's not about powering through' by Shawn Achor and Michelle Gielan.
It can be currently purchased for less than £5, or you can search for the individual papers on Google.
Other resources
Papers and articles
Videos
Online course
How useful has this been for you? Have you adopted any of these tactics in the past? Do you know of any others? Are there any that you are going to try out in future? If you have any suggestions, views or comments, why not share them on Twitter by joining the conversation at the FMLM twitter page, or on the FMLM LinkedIn group.
f Leadership online, FMLM link to 1,000 links. Join the conversation at #FMLMlink.