View from a clinical fellow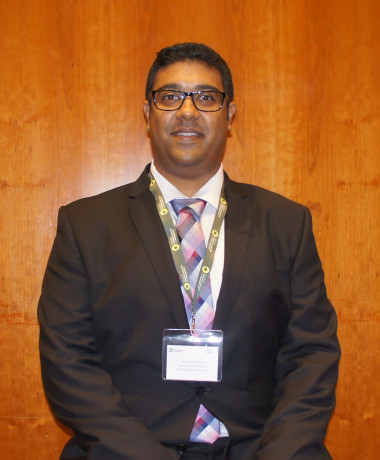 Hear from Richard Jacob, Chief Dental Officer's Clinical Fellow 2018/19.
I graduated as a dentist from Queen Mary University of London in 2006. Completed Dental Foundation Training in London, before going on to work in Oral and Maxillofacial Surgery as a Senior House Officer for 4 years and then transitioned into General Dental Practice for the last 9 years.
While I love the practice of dentistry, I had felt frustrations against the systems I had worked in throughout my dental career. For example, cut backs in secondary care even though the demand for the service was high, and, the feeling of being on the UDA treadmill in primary care. Many would say become a private dentist, or, open your own practice. However, I never wanted the responsibility of becoming a business owner, it was not what I trained for. I always believed that high quality dentistry could be provided sustainably on the NHS.
These frustrations inspired me to find out how I could secure a seat at the forums that influence healthcare decisions, so I could contribute to these discussions with the knowledge I had gained from my clinical experience. And, hopefully improve the working conditions and moral of the dental workforce. I wanted to know were these polices were made, who commissioned them, and by what method was it done.
The Chief Dental Officer's Clinical Fellow Scheme offered me a place at NHS England North (Lancashire-South Cumbria and Cheshire and Mersey). The scheme offered me a structured learning experience, working with some of the leaders who have made a significant impact on dental strategy at both regional and national levels. It was a difficult decision to take as it meant leaving my family and social circle, but I relocated from London to Preston as the opportunity was too good to pass up on. I can honestly say that all members of the primary care dental team welcomed me and made me feel like part of the family from day one, and, they are the best team I have ever worked with.
Experiential learning in this environment has given me a great insight to the structure of the NHS. Nurtured my leadership skills. Given me the confidence participate in discussions with stakeholders, enhanced my presentation skill and allowed me to apply evidence-based and clinical knowledge in situations where this may have not been considered previously. But, most of all to open my mind to see the bigger picture when planning strategically, while appreciating the resources we must do it in.
I am also proud of the fact that even though this year I am not a wet fingered dentist, the work I have carried out will have a direct impact in improving the populations oral health. The areas of work have been involved in for NHS England North, have also made me realise that even though it is a big change in mindset, by working collaboratively with our allied healthcare professionals, with integration of dentistry into primary care networks, flexible commissioning and portfolio carers, the future of dentistry is bright, and this will lead to better healthcare outcomes for our patients. This scheme has introduced me to new friends and future leaders in the fields of medicine, dentistry, pharmacy and ophthalmology from all over the United Kingdom. I have travelled and had the privilege to attend meetings in some fabulous venues (including Old Trafford), but in terms of development and growth in my field, it has been the best career move I have ever made.