How do we support organisations?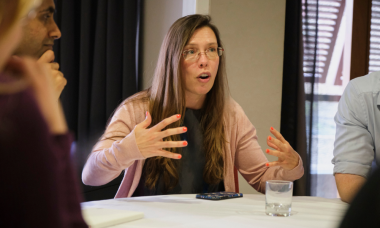 FMLM Applied provides high-quality clinical leadership development. This will enhance clinical leadership and engagement for the benefit of improved patient care. All solutions are robustly underpinned by research evidence on leadership development and the Leadership and management standards for medical professionals.
Coaching, Mentoring and Diagnostics
Coaching is a process of unlocking a person's potential to maximise their own performance. FMLM offers an endorsed network of qualified executive coaches with background, grounding or significant experience in clinical settings at all career stages. FMLM-approved executive coaches come with reassurance that they adherence to professional coaching standards and ethics.
Coaching for individuals
Gain support to make informed decisions about the suitability of coaching and selection of the best coach to meet personal objectives or development needs.
"The coaching sessions were fantastic"- Participant, Medical Leadership Development Programme
"The coaching sessions are so very useful" - Participant, Medical Leadership Development Programm
Safe space conversations allow stretched clinicians the opportunity to share challenges with an experienced colleague. The service is particularly valuable during extreme periods of strain and crisis, the Covid-19 pandemic proved the necessity of this.
"The arrival of the offer of the FMLM safe space conversation in my inbox made me think how little time for reflection I have had in the relentless environment of the pandemic. Being able to take some time to talk confidentially about how it felt to lead in a crisis was hugely helpful. For me it was important that the coach from FMLM had such a lot of experience of working with people in NHS leadership roles which meant they understood the landscape and challenges. It really helped me clear my head and get focused again."
Mentoring
Mentoring offers an effective method of personal and professional career development that helps individuals to identify their strengths, needs, and values and, ultimately, realise their aspirations. The FMLM mentoring scheme is open to all members and fellows.
Diagnostics
FMLM Associates are qualified and have experience in using a number of different diagnostic tools including the FMLM 360, Harthill Action Logics profiling, TKI instrument, MBTI, Hogan and talent Q.
The FMLM 360 has been developed in partnership with psychologists and is based around the behaviours associated with effective leadership and management, as explained in the Leadership and management standards for medical professionals. This tool will helps individuals to understand how others see them and help them to identify their strengths and areas for development, and therefore how to become more effective as a leader.
The Harthill Leadership Development Framework action logic diagnostic is an innovative approach that will help participants understand how they make sense of the world through an assessment of their 'action logic'. Developmental psychologists widely acknowledge that what differentiates leaders is less their philosophy of leadership, personality and style and more their internal action logic. In other words, how they interpret their surroundings and react when their power and safety is challenged. The process involves completing a 'sentence completion form', from which a report is prepared by Harthill and a debrief is scheduled with the participant on a one-to-one basis with an individual trained and authorised to use the profile.
Team development
Effective team working is essential for patient care
Coaching for Teams
Guiding a team through a process that allows them to gain a better understanding of their team dynamic and their processes to achieve their work with benefits across many levels. Coaching develops trust and collaboration amongst colleagues and improves the quality of internal and external relationships. Coaching helps determine how teams want to show up, identifying areas of collective responsibility and leading to improvements in team performance and cohesion.
Group Facilitation
Group facilitation develops relationships between individuals within a group by helping them to feel more supported and connected. This is as applicable within groups of the same profession or across different professions. It provides a space for reflection and discussion as individuals develop confidence in the value of reflective conversations and in their ability to work within their teams and across professional boundaries. Working within professional groups provides a valuable form of collegial support while working across teams will help to promote team working, relationship building and how to engage in healthy conflict and resolution.
Action Learning Group Facilitation
Action learning facilitation is a structured method that enables an individual, with the support of a peer group and facilitator, to expand their thinking or reframe an issue or challenge. This allows them to invite the possibility of solutions or actions to advance their goals. Participants link to specific pieces of leadership work in which they are engaged and for which they are personally responsible and accountable.
Team X-ray
During challenging times reflective practice is used by clinicians but can be overlooked by teams who also need the time and space to reflect collectively and individually. In asking 'How have we performed in recent times?', 'How do we look after one another?' and 'What must we keep of past behaviours and what must we leave behind?' Team X-Ray facilitates these discussions to better prepare teams for their next challenge.
As well as group coaching and action learning, FMLM Applied designs and delivers team leadership development programmes to grow cohesion and effectiveness in teams to improve patient care.
Multi-modular bespoke team development programmes
These in-depth programmes support groups of healthcare professionals, often multi-professional, to enhance their performance. Based on an action learning approach, programme durations can be varied with a unique model of co-facilitation, pairing an experienced senior clinician with a senior leadership development expert. An early imperative is to build trust to allow deeper engagement and exploration and to encourage constructive challenge within the group.
Delivery in modules at 6-8 weekly intervals allows in-depth learning, challenging conversations, and space to apply learning. The programme modules may include negotiating skills, leading through complexity, or working with boards. A wide range of topics can be covered during programmes. Leveraging the powerful science of action logs and sense making, FMLM Applied Associates make an impact with clinicians facing the increasing challenge of leading through complexity.
"We have been delighted to offer such a unique and bespoke medical leadership programme for our consultants that incorporated a real blended approach to its delivery. The impact and feedback following this programme along with the increased confidence in the leadership abilities of medical colleagues who participated, is a very proud moment indeed." Dr Kate Wood – Chief Medical Officer, Northern Lincolnshire and Goole NHS Foundation Trust
"It has been a real pleasure and a privilege to be a part of this programme" – Participant, Trust triumvirate leadership programme
"Personally, I will now have a closer relationship with the Trust senior leadership team which will hopefully allow easier strategic delivery now that we all understand better each other's perspective." – Participant, Senior medical leadership programme
Team diagnostics
There is considerable evidence, across several industries, that describe core elements with a team's infrastructure, processes and dynamics that have been associated with higher performing teams. This same evidence base has formed the basis of 'team diagnostic' surveys that can provide a team with a description of where and what they are doing well and potential areas of improvement. The FMLM have accredited Associates that can run the 'diagnostics' and provide subsequent feedback and guidance on what may be potential area of growth for the team.
Organisation Focussed Development
FMLM Applied brings experience designing and delivering programmes at multiple organisational levels. Taking team development approaches to encourage leaders at all levels to consider their responsibilities in developing their colleagues and establishing a pipeline of clinical leaders to support organisations. There are options to deliver programmes concurrently, with opportunities to bring together teams to share learning and contributions of their work to the organisation.
"I am more insightful into my leadership style and how to be more impactful in my delivery for my division and the teams I work with in the division but across divisional boundaries." – Participant, Trust triumvirate leadership programme
Systems Focussed Development
FMLM Applied understands the system approach in healthcare and the added complexity of the necessary relationships between players who are often sheltered from each other's worlds. As a solution to this, FMLM Applied offers a range of bespoke leadership support, initially focused on senior medical leaders but with opportunity to expand to attract multi-professional groups. These services are underpinned by robust academic theory of collaborative governance, complexity and action logics.
Primary Care Network (PCN) and Local Care Partnership (LCP) leadership solution
The solution develops Primary Care Network leader skills, thinking and sense-making which together increases individuals' confidence to lead at any level within the system. FMLM Applied brings together senior leaders from across the PCN and LCP to support the delivery of shared objectives. The programme strengthens and develops the leadership maturity of PCN practices and networks and builds relationships and leadership capability within the LCPs. The flexible programme involves a number of learning modules to suit the needs of participants.
Participants in FMLM Applied programme benefit from discounted membership and application for Fellowship.
If you are interested in discussing what an FMLM Applied programme would entail, please book in a meeting here to discuss your needs.
applied [at] fmlm.ac.uk