Trainee Steering Group (TSG) Regional Lead (multiple roles)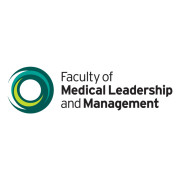 The Faculty of Medical Leadership and Management (FMLM) is offering the opportunity for several trainee members to join the Trainee Steering Group (TSG). The TSG is a representative group ensuring the views and interests of trainee members are represented to the FMLM. The purpose of the TSG is to promote the values of the FMLM to trainees and to provide strategic direction for medical leadership and management for its trainee members.
Read more about the Trainee Steering Group (TSG)
The FMLM is currently inviting trainees to apply for the position of Regional Lead for the areas below, with successful applicants representing their respective Region on the TSG:
East of England

South West of England (Peninsula & Severn Deaneries)

South East of England (Kent, Surrey & Sussex Deanery)

North West of England (North-West Deanery)

North East of England (North-East and North Cumbria Deanery) (Role taken)

Wales: South and East (Co-Lead Position with Lead for North/West Wales)

Wales: North and West (Co-Lead Position with Lead for South/East Wales)
As a Regional Lead you will be encouraged and supported to develop innovative projects within your Region, collaborate with neighbouring Regions, and contribute to the overall direction of the TSG, ultimately representing trainees on behalf of the FMLM. You will be expected to engage with and expand the network of trainees based in your allocated region, promoting medical leadership and management, whilst seeking opportunities to liaise with local and national external organisations to support leadership activities and initiatives.
In addition, there is an opportunity for significant professional and personal development via access to FMLM training opportunities, mentorship, and experiential learning through leading and delivering projects. The FMLM is committed to developing leadership and management among trainees. Joining the TSG will give you the chance to have your say on how this is achieved and delivered.
Additional information
Application deadline:
11 December 2023 - 6:00pm