Leadership is about people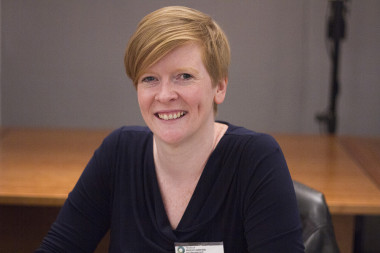 What can we learn from leadership in the third sector?

I was asked why I was doing a leadership and management fellowship and my short answer was to learn how to 'get stuff done.' This may sound simplistic but I wanted to learn how to influence and change people's behaviour and patient care when there are no easy financial incentives or wider political will. This is what I'm learning at Macmillan Cancer Support as their National Medical Director's Clinical Fellow this year.
Leadership through conversation

Macmillan Cancer Support is an organisation that punches above its weight when it comes to having a voice in UK cancer care. Macmillan can not 'tell' people outside of the organisation what to do. This raises the issue of how to be a leader through relationships, networks, and conversation rather than direct political authority. Macmillan's leadership model is based around creating these 'communities of influence' to enable and encourage change from the ground up. This work builds on the established model of communities of practice and evolved from Macmillan's work with patient representative groups.
Macmillan has established a network of nearly 200 GPs with an interest in cancer, who work up to one day a week on for Macmillan; they form a UK-wide educational and influencing network. They are supported by 20 GP advisors and four lead advisors who all balance their ongoing clinical work in primary care with leadership roles. They also work across primary and secondary care with 20 consultant advisors providing clinical insight to the work taking place throughout Macmillan.
This leadership model of gathering the 'right people' into the room, sharing solutions and good practice has been able to shape and improve local care and influence national policy. This has provided a rich environment for many GPs to develop their influencing skills and leadership experience
Medical leadership in the third sector
In 2012-13 members of the Richmond Group of charities, including joint CMO Jane Maher, started work to explore leadership opportunities for medical professionals across the third sector. Following this work, in 2015 Macmillan became the first third sector provider to host a clinical fellow on the National Medical Director's Clinical Fellow Scheme through FMLM. This enabled several projects to create opportunities for leadership development through Macmillan. The FMLM GP champion network is in its infancy but aims to inspire and equip the next generation of GP leaders. The parallels between these networks was obvious to both Macmillan and FMLM so we are taking some steps to bring the right people together in our own 'leadership community of influence.' The hope is that by bringing together aspiring medical leaders with those who are doing the 'job' of leadership alongside clinical work, we will find common ground and identify areas for collaboration between Macmillan and FMLM.
In December 2016 Macmillan GP advisors met with clinical fellows from the National Medical Director's Clinical Fellow scheme who are training in primary care to share their experiences of pursuing leadership and management opportunities. The insights they offered shed some light on the benefits and challenges of being a GP leader that apply beyond the third sector.
A career where you balance leadership and management opportunities can preserve and enhance the enjoyment of primary care clinical work.
All of our GPs mentioned that becoming involved in Macmillan work and leadership helped them to continue to enjoy their clinical work. Anthony Cunliffe (GP Advisor and Lead for Prevention and Diagnosis) spoke of that fact of becoming a CCG cancer lead gave him a chance to exert influence and shape the environment in which he worked.
Macmillan GP leaders found that most opportunities just 'landed in the in tray.'
Most leaders will say it is about being in the right place at the right time, and that it's down to chance. But it's also about having the right mindset at the right time. FMLM's career map of opportunities aims to make these roles more visible so, when people feel ready for these first steps, they know where to look and FMLM can enable them to navigate these career options.
'I could have done with some formal training'
All three Macmillan GP advisors spoke of the fact that they learnt quickly on the job but felt they would have benefitted from some training on leadership. Rosie Loftus, GP and Joint CMO, spoke of 'having' to go to a training session on leadership at the start of her Macmillan career and 'having to eat her words' when it was extremely useful.
GPs have the skills to be great leaders but tend to 'leave them in the consulting room'
In each patient consultation GPs are developing their skills in negotiating with, influencing and motivating people. Throughout their training and career, navigating NHS structures and networking with staff come as second nature. How can we harness that and ensure GPs believe they are leaders?
'Leadership is about people and conversations' we just need to find a way to break down barriers
Leadership is about persuading people to do what you think is the right thing for the patient and we are not above some gentle incentivisation! Pete Nightingale (GP Advisor and Lead for End of Life) explained that a little informal incentivisation and competition can be very powerful. A gift of a bottle of fizz for the practices that best engaged with the End-of-life Gold Standards Framework assessments achieved some excellent results.
I am learning that the leaders in an organisation may not be those with formal management roles, but rather the people with the largest network of influence. The challenge when trying to effect change is to find those with the greatest influence in your community, get them around the table and empower them to find the answers.
Moving forward, Macmillan and FMLM are exploring the opportunities for medical professionals to develop leadership skills through involvement with the third sector. They will be hosting an evening on 15 March to bring together small health and social care charities and aspiring clinical leaders.
Reference
Communities of Influence: Improving Healthcare through Conversations and Connections, by Alison Donaldson, Elizabeth Lank, Jane Maher