The first steps on the path to medical leadership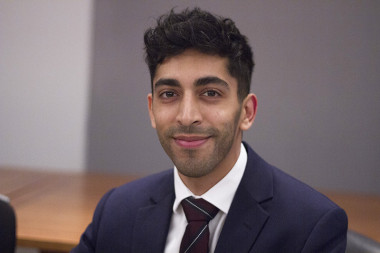 I felt a subtle nervousness walking down the steps to the lecture theatre in UCL's Cruciform building.
The feeling was soon met with faint nostalgia as students passed in the corridor on their way to various clubs and societies' meetings, one group heading to rehearsal for an upcoming West-End cultural talent show.
Along with four other clinical fellows, Brian, Becks, Pablo and Nish, I had been invited by UCLU's Leadership and Management Society (LMS) to give a talk to students on our medical leadership journeys and experiences of the National Medical Director's Clinical Fellow Scheme so far.
"Would they be engaged? Interested in what I had to say?" I wondered. "Am I even qualified to be giving this talk – oh, and there's the imposter syndrome again. I'm sure they will be. Of course I am. Everyone's leadership journeys are unique and I was here to share mine."
The lecture theatre was buzzing as we entered and set up but immediately quietened as Ivan, UCLU LMS's president, introduced us. The audience ranged from first to final year students, predominantly undergraduate medics, with some current and aspiring postgrads too. We each spoke of our backgrounds, previous experiences and how we came to be on the fellowship in a series of presentations with time for a Q&A after.
Whilst each taking a slightly different angle and recounting personal stories, several themes were echoed: breaking down those silos of competitive secrecy constructed at medical school, pooling resources and collaborating across projects. Making a conscious effort to live on the edge of our comfort zones – saying yes to those daunting and unfamiliar experiences, grateful for the personal growth that had followed the times before. Also looking ahead with careful thought to what skills and achievements are required to progress.
I was right to shun my thoughts walking into the room; the audience was extremely engaged and interested in what we had to say. Despite the recent political upset, they firmly maintained that career-wise, #medicineisbrilliant, and demonstrated a good understanding of the challenges facing the NHS today.
The calibre of questions posed to us was equally inspiring. One young medic asked: "Is there anything we can do now, as students, to get into leadership?"
My immediate thought was of all the students in the room and those I had passed on the way in. "Keep doing what you're doing," I explained…
Organising an event, be it an evening lecture or a West-End show, working with like-minded individuals on shared interests and juggling extra-curricular priorities alongside a packed medical-school timetable are all examples of leadership and management. As are participating in team sports or taking responsibility for club finances. All of these examples align with the qualities described in FMLM's Leadership and Management Standards for Medical Professionals or the NHS Leadership Academy's Healthcare Leadership Model.
If you're a student reading this, I recommend you have a look at these resources and explore how the things you are doing marry up. As a career in medical leadership and management has no formal pathway in the way academic medicine does, it allows for a real variety of experiences and the chance to carve out one's own opportunities for developing personal and professional competencies. These should be realised and seized.
Questions evolved into smaller group conversations as the evening drew to a close. On leaving, I felt reassured and a sense of privilege to have spoken to such enthusiastic and passionate individuals – these future medical leaders are well on their way.
About the author

Sumeet is a specialist registrar in clinical oncology. He trained at Imperial College London, graduating with a first-class honours BSc and MBBS with distinction in Medicine. He undertook foundation and core medical training in the Oxford and London deaneries. Realising the value of understanding hospital management and the wider political and healthcare landscape, he completed a post-graduate certificate in healthcare leadership with the NHS Leadership Academy prior to being appointed a National Medical Director's Clinical Fellow at NHS Improvement, where he worked on projects including workforce, professional medical leadership and cancer care.
Following on from the Clinical Fellow's Scheme he commenced an NIHR academic clinical fellowship at the Institute of Cancer Research, with clinical training at Charing Cross and the Royal Marsden hospitals. He is among the first cohort of students to be awarded PhD funding by the UKRI Artificial Intelligence for Healthcare Centre for Doctoral Training at Imperial College London. His academic interests include radiomics and deep-learning in cancer imaging.
Sumeet is also a member of the Royal College of Radiologist's Faculty of Clinical Oncology's AI and Digital Health working-group and co-chair of the RCR's Oncology Registrar's Forum, which serves to improve training and educational experience in clinical oncology.