Home
»
News & Opinion
»
Eight high impact actions to improve the working environment for junior doctors
Eight high impact actions to improve the working environment for junior doctors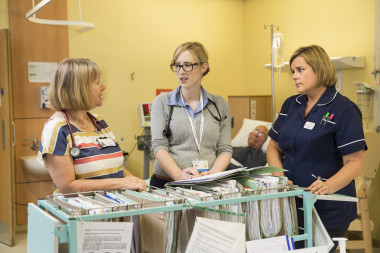 We are proud to announce that FMLM has been working alongside NHS Improvement and NHS Providers to co-badge an important initiative to improve the working environment of doctors in training.
Working closely with trainees and providers, we have developed eight high impact actions which have been recommended by doctors to improve their working environment and morale, and which can be implemented quickly.
This is part of FMLM's ongoing commitment to supporting frontline medical staff in becoming better medical leaders.
The working environment for staff is an important window into an organisation's culture and leadership. There is growing understanding of the causes of low morale, high attrition and burnout in the medical workforce and the impact of these on operational performance and patient outcomes.
Meaningful improvements will require engagement locally between trusts and doctors in training, along with support from senior clinicians, and, in some instances, investment of resources. However, the benefits to staff engagement, performance, cost savings and most importantly, patient care and reduction of harm will provide a worthwhile return.
The initiative has been supported by leading national medical bodies, including the BMA and the Royal College of Physicians.
Dr. Jeeves Wijesuriya, Chair of the BMA's Junior Doctors Committee, said:
"It is important that junior doctors, like all healthcare professionals, have a constructive and safe working environment that gives them the time and facilities they need to deliver care to their patients. This new guidance sets out common sense proposals that echo the BMA's recommendations in this area.
"It is particularly encouraging to see an emphasis on the wellbeing of junior doctors throughout this report, as this is a critical issue affecting both workforce recruitment and retention. This issue remains a high priority for the BMA and we will continue to work with a range of organisations on this across the NHS."
Professor Jane Dacre, President of the Royal College of Physicians of London, said:
"Building upon our own recommendations from Being a junior doctor and Keeping medicine brilliant, these straightforward and simple actions are incredibly useful for trainees and senior colleagues alike. They provide and effective addition to the conversation around improving working conditions for junior doctors, as well as providing a framework for trusts to work towards. Such work is valuable and truly needed. Written in partnership with our own trainees committee and the RCP's clinical fellows, I hope it aids many trainees currently working in our NHS."