Introducing the new Medical Student Group Co-Chairs
By Dr Jamie Smyth
National Medical Director's Clinical Fellow and FMLM Douglas Fellow 2022/23
Following a competitive application process, FMLM is pleased to introduce Ria Bhandari and Kartik Goyal as the new Co-Chairs of the FMLM Medical Students Group.
Dr Paul Evans, FMLM Medical Director and Acting Chief Executive, said:
"I am delighted to welcome our FMLM student members, Ria and Kartik, to their new roles, which will help re-establish our close working relationships with medical students across the UK, following the pandemic.
"The support of medical students is critical to FMLM's work to help embed leadership and leadership development at the earliest stages of the clinical career, for the benefit of patient care.
"With Ria and Kartik's help, we are looking to form an active and diverse medical students' group which draws representatives from every medical school in the UK, and who will be keen to participate in key events and actvities, particularly FMLM's in-person conference in Manchester in March 2023."
Ria Bhandari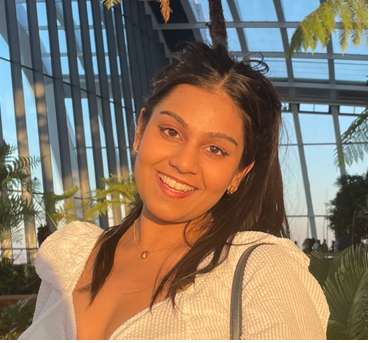 I am Ria Bhandari, a third year medic at the University of Nottingham. It is my honour to be selected as the Co-Chair of the Medical Student Group (MSG) at FMLM.
Over my time at medical school and in clinical environments, I have grown to understand how essential leadership is to all of us, our patients, and the wider health system. Sound leadership is central to the working of our NHS, now so more than ever as we face challenges across the health and social care sector.
Having reflected on the nuances of working in healthcare and with different people across societies, quality improvement projects, and improving adaptability – I have realised that I resonate most with transformational leadership. With an emphasis on change and transformation, there is a focus on the future and on people so that an organisation can reach its full potential while promoting a cultural of continuous improvement amongst its workforce.
I am a firm believer that true change can only be achieved if the next generation of doctors embraces the need for robust leadership principles, while they are in the early years of their training. It is now time that we acknowledge the need for formal training in leadership to equip our upcoming junior doctors with the relevant skills.
In collaboration with my Co-Chair, Kartik, my vision for the year is to establish a leadership curriculum that is given equal importance to clinical knowledge. I would like to engage medical students so they gain exposure to the situations that may arise in a working environment and equip them with the skills to advocate for themselves and the teams that they lead.
Each of us has unique aspects that contribute to the quality of a responsible, high-performance clinical team. I hope that our medical students and junior doctors will acknowledge that the idea of leadership is not based on position but on principle – and in keeping with this, will endeavour to display exemplary conduct in all clinical & personal decisions regardless of their clinical seniority.
I look forward to working with several of my fellow medical students, junior doctors, and other members of the FMLM community and our wider NHS. I hope that together we can make great strides in setting medical leadership and management at the core of what we do.
Kartik Goyal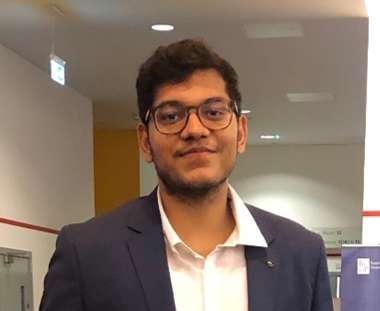 I am Kartik Goyal, and I am in my final year of medical school at the University of Liverpool. I am deeply honoured to have been selected as the Co-Chair of the Medical Student Group (MSG) at FMLM.
I strongly believe that clinicians such as doctors, nurses, and allied health professionals are best placed to serve as the next generation of health system leaders. During my time within the MSG, I hope to work on increasing recruitment and engagement with the FMLM and enhancing opportunities for personal and professional development within medical school. Moreover, I hope to establish a proactive committee, expand research into the undergraduate medical curricula and extend development opportunities to our members.
During my tenure, I aspire to answer the questions most asked by medical students, 'What is medical leadership? How can I learn more about it and how can I get involved?'. In collaboration with my Co-Chair Ria, the MSG will create an annual agenda, involving various annual events and workshops and opportunities to get involved in research, whilst expanding our network of FMLM student members across the country.
My understanding of leadership stems from my appreciation of the word 'Change'. Change can be passive, a process that is happening all around us but outside of our control. Change can also be an active process, influenced and led by the actions we take as leaders, doctors, and students. Leadership is about creating this positive change and improving the systems around us. As MSG Co-Chair, my aim will be to do just that.

For more information, you can contact the MSG at

medicalstudents

[at]

fmlm.ac.uk