The Hoxton Crack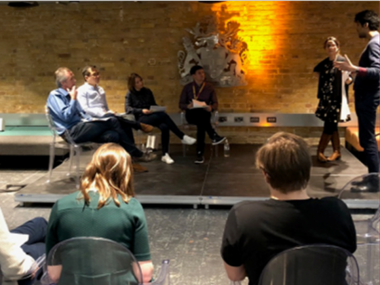 In his keynote speech at the Leaders in Healthcare Conference 2017, Professor Sir Bruce Keogh spelled out three factors that would determine the future performance of our health system:
1. Our response to the ageing population
2. How readily we embrace and adopt technology
3. How judiciously we spend the NHS budget
These three mammoth charges, untidily interwoven and without definitive solutions, are dubbed 'wicked problems'.
To whom does it fall to tackle them? Heralded by the Faculty of Medical Leadership and Management (FMLM) as 'leaders of the future', one could argue that this gargantuan task is (or will be) earmarked for the Clinical Fellows.
Granted, a 12-month plunge into a healthcare-affiliated organisation (in my case, Aviva UK Health and Protection) provides all manner of valuable experience, but how do we learn the critical skill of tackling problems which, by definition, are 'difficult, if not impossible, to solve'? Here is one possible answer.
In May 2016 Aviva Group struck up collaboration with Founders Factory who build and scale early-stage technology companies. Under Founders Factory's wing, a new company has access to all it could wish for: funding, Founders Factory's corporate partners and networks, and expertise in technology and operations. More valuable still is Founders Factory's mentorship, with all mentors having started and sold companies themselves. These mentors are entrepreneurs, and entrepreneurs, at their essence, are supreme problem-solvers. Just the team you need when faced with a wicked problem.
Aviva Group, too, has expertise to bring to the table. In 2017 the strategic partnership between Aviva's venture capital arm, Aviva Ventures, and Founders Factory revealed its first five startups to benefit from a multimillion pound investment. Two of these startups centre on health and social care: Psious applies virtual reality (VR) technology to enhance mental health, while Fitwell champions wellbeing through its fitness app. Additionally, the partners have built their own startup, OnCare, a software platform replacing paper documentation with a user-friendly app to increase efficiency in social care. This innovation goes some way to meeting all three of Sir Bruce's challenges.
The Clinical Fellows, the problem-solvers, the investors, and the successful start-up: would a blend of expertise, stretching beyond the confines of healthcare, be the winning formula for tackling a wicked problem?
Late afternoon on February 8, 20 representatives from Aviva Ventures, Aviva UK Health and Protection and Founders Factory met with 14 Clinical Fellows in Aviva's Hoxton Digital Garage, a space dedicated to Aviva's creative designers and technology experts.
Fellows formed three teams, with Founders Factory facilitating and Aviva mentoring. The brief was simple: pick a problem statement relevant to the ageing population, dissect the problem, devise a solution, and deliver your work to a judging panel. Points would be awarded for Fellows' problem-solving – their 'working' – not the solution itself.
Founders Factory's expertise now came into its own. Fellows were strictly reined back from leaping to solutions (which, I suggest, most of us are wont to do). First, they must isolate a problem statement. These were: (Team 1) 'elderly peoples' end-of-life wishes are not sufficiently observed' (Team 2), 'loneliness and poor nutrition are major causes of morbidity among elderly people', and (Team 3) 'mental illness compounds morbidity in elderly people with chronic disease'.
Next, each team would illustrate its problem with an imaginary elderly character in a make-believe scenario, documented via Post-it trail on a flip-chart. Three 'Bobs' were promptly brought to life. Then, how could the problem be made worse? After all, how much easier it is to outline 'what good looks like' having first considered the worst case scenario.
At last, the solutions. How might the problem be solved if money was no object, and how could these ideas be scaled back to practicable initiatives? Facilitators and mentors dipped in and out of team conversations, refining solutions by quizzing Fellows on their market research, challenging them to prove their solution's feasibility and 'value add', and recommending applicable technologies. Teams were given just 30 minutes to choose their solutions to pitch to the judges, and hurriedly draft a presentation.
Three hours of exploring, analysing and drilling down generated three first-rate solutions. Each was sophisticated, viable within the UK's current healthcare system, and incorporated a role for technology. The winning team described translation of an elderly person's end-of-life wishes into a wearable QR code, readily accessible to key parties: the patient, her GP, and emergency responders and departments. This system, they argued, was inexpensive to implement, and would dramatically reduce the unsolicited and inadvertent overtreatment of elderly people.
Sir Bruce highlighted just three of many wicked problems confronting the NHS. Our event, dubbed 'The Hoxton Crack', makes a case for reaching beyond the clinical sphere, and drawing on expertise from the networks created by FMLM and other fellowships like it.