National Conference 2012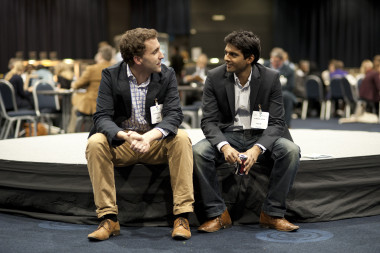 The inaugural FMLM conference 2012, "Four nations -- one challenge, improving patient outcomes" held in Manchester Central on 16 and 17 October was a huge success with 730 delegates attending from different regions, career stages and specialties! The conference covered four major themes: medical leadership, healthy doctors, what stimulates the right delivery systems and value for patients.
View conference videos and presentations
FMLM members and associates can access more conference highlights including videos, presentations and photos. Non-members can watch the Where's next for medical leadership panel session featuring Professor Sir Neil Douglas, Chairman of the Founding Council of FMLM, Peter Lees, Founding Director, FMLM, Anna Moore, Outgoing Chairman of FMLM's Trainee Steering Group and Rob Greenhalgh, Outgoing Chairman of FMLM's Medical Students Group. Further edited highlights from the conference will be available soon for non-members.
What delegates said about the conference
"It is good that as an experienced Medical Director, with over 15 years in different roles, that this event both challenged and encouraged in equal measure. Challenge in that there is always something new to learn and better ways to communicate the opportunities for improvement. Encouragement in the number of younger colleagues keen to pick up the baton and willing to continue the battle for hearts and minds that there can be a better future in healthcare." – Medical Director in Scotland
"Finally a real attempt to re-establish in modern times the core values of medical professionalism and dealing with a dangerous crisis of identity." – Salvatore Febbraro, Chief Medical Officer for Altasciences
"One of the most inspirational conferences I have attended for many years. Well organised and excellent value." – Consultant
"This conference was well worth the time and effort to attend. It was refreshing and involved a variety of formats allowing a pick and mix approach to learning and participation. FMLM has sprung up in a timely point where we recognise the need to improve the impact of medical leadership in health services." – Medical Director
"Excellent, inspiring, highly recommended." – Sam, Byrne, Medical Student
"A warm, friendly faculty made up of individuals committed to making a real difference in the NHS by promoting a greater shared understanding of leadership within medicine. Thank you for the opportunity to meet with such inspiring people and provide such excellent resources to help me further develop my leadership skills." – Trainee
"A very successful inaugural conference that helps medical profession to manage and lead in the new NHS"
"I found the conference educative and will put into practice what I have learnt."
"The FMLM conference is an exciting vibrant event that provides opportunities to learn and network with established leaders within the NHS as well as the leaders of the future."
"An excellent event, well hosted with great support."
"This is a must do conference for anyone who cares about the future of the profession."
"A very impressive start to this embryonic organization. The future looks positive and the recognition that managers and leaders will be able to revalidate as such will be extremely useful."
"Wonderful, stimulating event showing that doctors are interested in becoming great leaders"
"Outstanding meeting for formal learning about leadership through excellent structured sessions and informal learning through many friendly opportunities to network. Great sessions."
"A must attend for any aspiring medical leader"
"This conference is definitely an eye opener. Learned so much and met so many inspiring people.This conference will provide me with a brilliant platform to kick start a career in Medical Leadership and Management."
"I found the meeting very stimulating and different form the usual syle of medical meetings that I have attended so far. I liked the syle of speakers who spoke with a great degree of confidence facing the audiance without hiding behind the desk and reading the power point slides. An enlightening and elucidating educational/motivational event."
"Helpful and inspring sessions on a wide range of topics of great relevance to my work as a medical manager and an excellent opportunity to discuss leadership in the NHS with doctors from other branches of medicine."
"A welcome opportunity to meet like-minded people from across the four nations to discuss and hear about key topics that are engaging and will engage healthcare leaders. As health policies, strategies and structures become increeasingly divergent, it is essential to have a forum for the engagement of senior leaders in health and education."
"An interesting set of practical presentations relevant to my role and a good use of my time."
"Overall a good event. Some of the speakers were inspiring and empowering. Will attend the event again and will strongly recommend to new consultants interested in management."
"The FMLM conference in Manchester was a gratifying experience with broad coverage of various issues that would help me make some changes at my work place. Dr. Oladimeji Kareem I learnt much more than expected about leadership styles, patient safety initiatives, 2nd victim support and why leadership matters so much in our NHS for our patients. All the speakers were engaging and masters of their fields. Excellent conference in form & content. I look forward to attending in 2013! This was a great event: I have returned to work re-energised about the role I perform and the task ahead. Thank you."
"Generally a very helpful, valuable and useful experience."