My journey from a demoralised junior doctor to an inspired one
I have officially changed. I didn't notice it happen but when I look back at my National Medical Director's Clinical Fellow year at NICE I can see that my perspective, my knowledge, my attitudes, my skills and even my very self have been transformed by this unique experience.
The journey I have made over the year is from a tired and demoralised junior doctor to an inspired and aspirational one; from irritated at the system to understanding it, and from intimidated to confident and empowered.
This is the picture I took before I left the hospital where I was based, to sum up how I felt. This is how being a junior doctor feels. Overcapacity, system failure…I am being a little provocative, but it definitely didn't make me feel like I was working in a professional environment.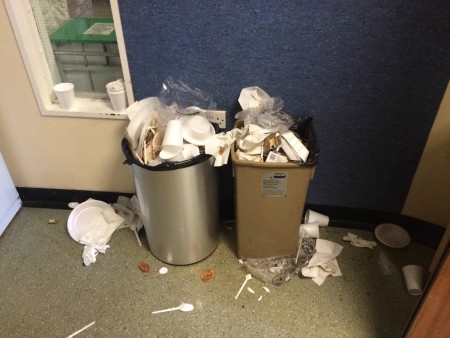 Contrast that with my new view at NICE and you'll realise that being plucked out for a year can really change the way you see things.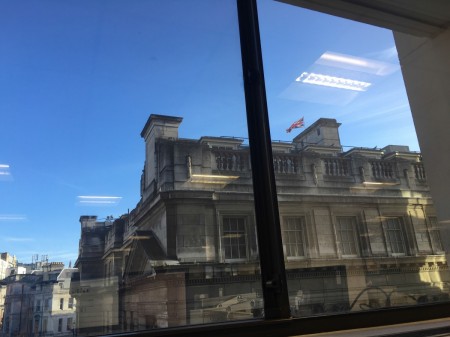 Before I started the scheme I thought: "You're doing it all wrong, it is so clear what needs to be done, why aren't you doing it?" Now, after I have journeyed a bit more, I see things differently and that is what I want to try and get across in this blog.
I often describe the fellowship to those I am trying to impress as 'an immersive year in health policy and system leadership and management'. The inevitable response is: "Well what did you actually do?" Therefore, I thought I should try and give a good answer.
What I did can best be expressed in terms of the experience I gained and the outputs I produced. So, because I enjoy drawing things, I decided to make some visuals to attempt to convey the content of my year.
This is everything at NICE that I felt contributed to my leadership and management experience: regular meetings, conferences, events, national meetings, training days, work streams.
The big ones here for me were becoming comfortable with meetings, learning how they are best chaired, and using them to get things done. There was also the chance to go where many fear to tread, into the inner workings of NICE;, an insight that has been invaluable.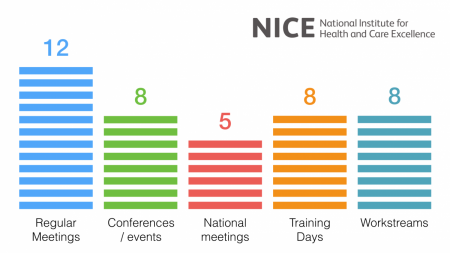 This slide is the same but represents the experience I gained outside of the day job. Things such as action learning sets, training days, induction, meals, trips, away days, events, shadowing and pitching.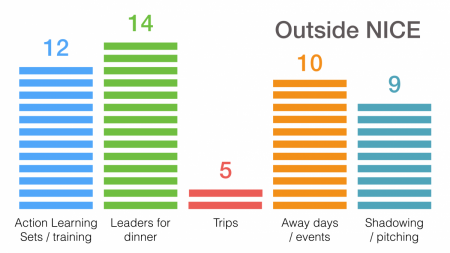 Beyond any doubt, the highlights here were the camaraderie of the fellows, the relationships we made, the kind leaders who had a meal with us, and the chance to pitch ideas to the likes of Prof Sir Bruce Keogh and Prof Tony Young.
Some of the more tangible outputs that I produced as part of the day job and made the year worth the investment for me, include:
Infographic slide sets for the trauma guidelines
A prototype for the National Information Board's app assessment framework
And a few other creative projects along the way.
What I want to focus on here is what made the difference in the journey I talked about earlier and that is all around ideas.It turns out my ideas / ideas implemented ratio at NICE was 0.44. This was where I really gained that understanding of how difficult it can be to get things done in the systems we have to operate within, but also that there are tricks and methods to employ to give you a better chance of getting agreement to go ahead with your ideas.
I realised that leadership is more than just solving problems with good ideas. You have to understand your idea, be able to pitch it in five different ways, bring people with you, keep the vision big enough to get people excited but small enough that it seems doable, and sometimes you have to choose which ones to put your energy behind and which to sacrifice.
It is in this that I found the answer to my question "It's so obvious what needs to be done, why aren't you doing it?"
Firstly, it is difficult, and secondly there is much more complexity than you initially thought. I do still hang on to the idea, however, that there is an element of learned helplessness that remains around this; there is a fine line we all have to walk between choosing our battles and fighting them by thinking bigger.What is interesting is that my ideas / ideas implemented ratio outside of the day job was 0.67.
We set up Collaborative Quality Improvement – a national initiative for delivering crowdsourced multi-site quality improvement projects which is being evaluated with a proof of concept project in September.
And we organised TEDxNHS with the aim to bring together people with inspirational stories and aspirational ideas once a year, to give them a national stage so we can hear them and leave inspired to think differently, dream bigger and design better for the population we serve.
It was in leading these projects that I felt I had the most impact this year and this points to a struggle, a question that a lot of us have had.
"Do I stay within the system, a complex web of bureaucratic institutions, or step outside where I have the freedom to innovate and be creative?" Some of the fellows have chosen to leave and others to stay, but what I am interested in goes beyond the choice of individuals and addresses the choice system leaders make next.
It is quite clear that those I worked with at NICE were able to give me space to have ideas, test them out, and run with them as part of my job but outside of the usual remit of the organisation. My achievements outside NICE were only possible because of the freedom and support I was given to pursue them.
My answer to the 'stay or go' question is to challenge our leaders to keep giving people like us space to try ideas. The fellowship is an ideal way to do this, but we can go further by building creative space for innovation and ideas into our institutions. This might mean giving time and a budget to five of the most creative people in those organisations and letting them generate and test new ideas.
For me, space for ideas has been instrumental in my journey from tired, demoralised, and irritated to inspired, aspirational and empowered.
About the author

Jon is all about making things better.
He is currently an ST8 specialty registrar in Trauma & Orthopaedic Surgery in the East Midlands and has previously worked in health policy as National Medical Director's Clinical Fellow at NICE. He has held advisory roles with the University of Cambridge's THIS Institute, the Care Quality Commission and the Greater Nottingham Transformation Partnership Integrated Care System. He is project lead for the Enhanced Pathways in Orthopaedics at Nottingham University Hospitals NHS Trust.
He has co-founded and directed 2 startups; TEDxNHS and Collaborative QI and was the inaugural Chair of the East Midlands (North) Orthopaedic Rotation Trainee Committee. TEDxNHS puts ordinary (but also extraordinary) people on high-profile platforms to amplify their stories and inspire a collective movement for change in the NHS. It attracts 1000+ attendees to annual events and is growing in its influence and reach year-on-year.