Coaching 'on the run' at Leaders in Healthcare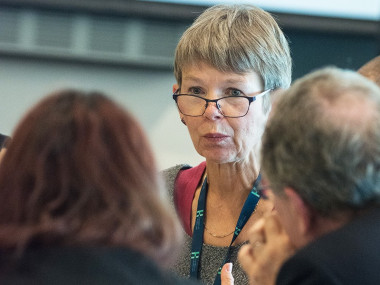 Many delegates at Leaders in Healthcare 2016 were introduced to coaching for the first time – either by attending the workshop session Coaching for doctors: making the most of the experience, or by having one-on-one speed coaching sessions.
Here is what some of the coaches had to say about the conference.
As a founding member of the FMLM coaching network, I have been working with the Faculty to promote the value of coaching to medical leaders for a number of years. It was hugely heartening to find that our session at Leaders in Healthcare 2016– Coaching for doctors: making the most of the experience – was full to overflowing, despite strong competition from other sessions, including the national panel debate with Prof Sir Bruce Keogh . What people heard and experienced in this coaching taster session clearly hit the mark, as people at all stages of their career engaged with topics such as building resilience, managing transitions, coaching in organisations and time management.
If these two days are anything to go by, not only is coaching a highly effective way of working with the issues that medical leaders are facing in today's NHS, but the potential demand could be considerable.
As an experienced coach of doctors, I approached the Leaders in Healthcare 2016 conference with a sense of trepidation – not dissimilar to how our 'coachees' often feel. The clue is in the words 'speed coaching' – how much can I achieve in 20 minutes, will the client feel rushed, or more importantly, be left wanting more? But I found that if you focus on one single issue or challenge, you can achieve quite a lot.
The GROW coaching model is a great, yet simple construct for arranging your thoughts around finding a goal, acknowledging your strengths, thinking about what you might need to bring into the plan, and identifying the steps for achieving that goal, all under the guidance of an experienced coach.
Every single doctor I worked with at the conference speed coaching sessions had thought through their issue or challenge beforehand, so it was simply a matter of supporting them to draft a plan of action. Everyone was really enthusiastic, and age was no barrier to creative thinking and exciting plans. It felt like we were working as a catalyst to liberate a reaction that was already partly formed in their minds. In the zone, time can truly slow down and speed coaching does work. In today's complex, ambiguous, volatile and uncertain working world, we often need a sounding board and coaching can provide that. As we were in Liverpool and on the coast, the metaphor of coaching as a lighthouse came to mind.
Being part of the FMLM coaching team at Leaders in Healthcare 2016 was incredibly rewarding. Not only were we able to support delegates with speed coaching sessions, but we also introduced attendees to what coaching can do for doctors with practical guides to a whole range of subjects.
My workshop table gave a quick guide to time management (an ever popular subject) and I hope gave a new twist as to why this is such an emotive subject. During speed coaching I was able to support delegates to think through their next career move, consider priorities, reflect on professional relationships and review how they manage change. It really was a privilege to be part of the whole event and great to see so many people interested in and committed to developing their leadership skills.
At Leaders in Healthcare in Liverpool I had the privilege to work with a range of doctors who were genuinely curious to find out more about coaching as part of their leadership development. The 20-minute speed coaching sessions were in great demand and with colleagues I explored workplace dilemmas, how to manage transitions into senior roles, how to influence others as junior members of a team, and how to improve self-esteem and confidence when all seems to be falling apart.
The group workshop I facilitated focused on improving personal resilience and gave delegates practical suggestions of how to boost their resilience, which went down extremely well and provoked further discussion. I came away from the conference thinking there really is huge interest in how medical staff could use coaching, and feeling enthusiastic that so many delegates were delighted to receive their first taster of coaching.
If you are interested in finding out more about or accessing coaching, visit our coaching section.