Tomorrow's Strategic Leader Leadership Development Programme
New programme coming soon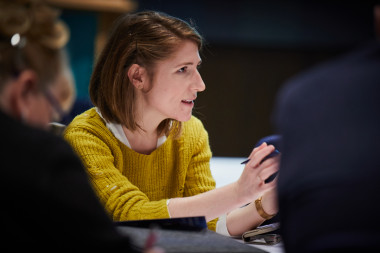 Tomorrow's Strategic Leader
is an expert-driven leadership development programme that will transform the way you think about leading, and about the leadership potential you hold within yourself.
This highly practical programme has been independently verified to improve leadership competencies in participants. It aims to impart a deep understanding of strategic leadership and the tools to continually develop beyond the scope of the programme itself.
---
I qualified 15 years ago and I can honestly say that the course is the most valuable and interesting thing I've done in all that time. The mix of personal coaching, exposure to senior leaders and the ability to be with a group of interesting, emotionally intelligent people for a couple of days every few months and to be able to reflect and "look back in on" our work has been extremely useful. - Tom, surgical consultant based in Nottingham
---
Who is it for?
Tomorrow's Strategic Leader has been designed for consultants, GPs and senior trainees. It assumes some leadership experience (for example, through leading clinical teams), and participants must hold a desire to further their leadership capabilities in order to take on more challenging leadership roles in the future.
How will you benefit?
Participants on Tomorrow's Strategic Leader will benefit from:
Seminar style delivery to help you be more self-aware, more able to build and lead effective teams, and better at negotiation and influencing
In-depth assessment of your leadership with one-to-one feedback at the start and end of the programme
Understanding how politics influences healthcare, how you might work closely with MPs, civil servants and journalists
Meeting national and international experts to build a better understanding of complexity and how to lead complex organisations and systems
Action Learning Sets scheduled between each module giving the opportunity to reflect on and action your learnings
Work with a resident facilitator to help you to build on your learning, aid reflection and provide challenge throughout the programme.
Listen to the 'Tomorrow's Strategic Leader - what's it all about' webinar
Hear from previous participants about their experience of the Tomorrow's Strategic Leader programme; what they found most valuable and the impact that it has had personally, professionally and for their organisations
What will we do on the programme?
Day 1 ------------- Introduction
Day 2, 3 and 4 ------ Leading in a volatile, uncertain, complex, ambiguous world
Day 5 ------------- How the NHS fits together and 'meet the stakeholder' session
Day 6 ------------- Politics
Day 7 ------ Effective team leading
Day 8 and 9 ------ Patients, populations and 'what are you doing locally'?
Day 10 ------------ What will be different?

You can see a full description of each of the modules in the Tomorrow's Strategic Leader programme
How is it structured?
The programme comprises 10 days over 10 months with a mixture of face to face and virtual delivery.
Who is delivering the programme?
Alexis Hutson - Alexis is the resident facilitator on the programme, find out more about Alexis and her background here.
Find out more about the programme and past participants' experiences in the external evaluation of the programme, executive summary.
If you would like to find out more about this programme you can get in touch by:
emailing

events

[at]

fmlm.ac.uk
or calling 0208 051 2060
*Please note that participation in this programme does not guarantee the award of Associate Fellowship, which is determined by an independent panel.
Additional information
Cost
£4000 for FMLM members £4300 for non members
When
New programme coming soon
Competencies
Demonstrating personal qualities, Working with others, Managing services, Improving services, Setting direction, Creating the vision, Delivering the strategy
FMLM standards
Self awareness and self development, Personal resilience, drive and energy, Effective team work, Cross-team collaborations, Corporate team player, Corporate culture and innovation
Where
Tomorrow's Strategic Leader is an expert-driven leadership development programme that will transform the way you think about leading and about the leadership potential you hold within yourself.
WC1R 4SG
United Kingdom